iPad Mini dock connector leaks with odd port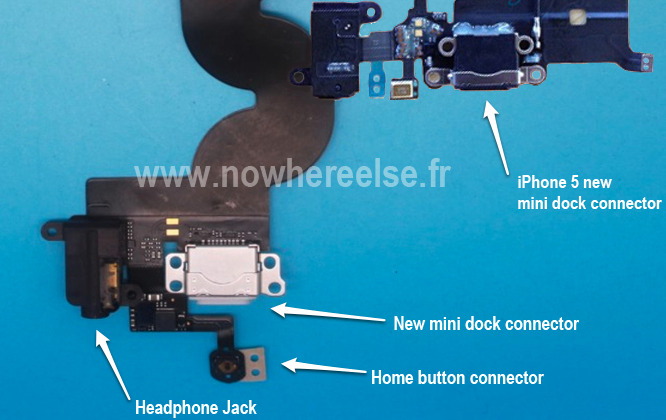 It appears that the next-generation so-called iPad mini may have had a part leak out this afternoon with no less than a new mini dock connector attached to it. This part has been shared with NWE and "examined" by iFixit, both parties suggesting that it does indeed appear to be an official Apple device component for an unknown future tablet-sized device. What's strange about this part, however, is that it's got 10 pins in its dock rather than 8 or 16.
Rumors and tips thus far about the next generation of Apple mobile devices have been clear about a dock connector that will be smaller than the 30-pin component we've been using thus far. The reason for this is that several of the pins are no longer in service and new and more advanced technology has taken over since the 30-pin model was introduced. This new dock connector has been tipped as having 8, 9, or 16 pins instead of 30.
This supposed iPad mini component also has a headphone jack and home button connector both quite near the dock connector, this leading us to believe that this is, indeed, an iPad component – or at least an Apple mobile device. This also falls in line with the suggested configuration for the next-generation iPhone with the headphone jack at the bottom of the device.
Have a peek at the timeline below to see more iPad mini posts with tips and leaks galore included – fun stuff for all! Also you might be safe expecting this device to appear soon – September 12th is possible!