iPad mini 2 and iPad 5 casings caught flaunting skinny chassis on video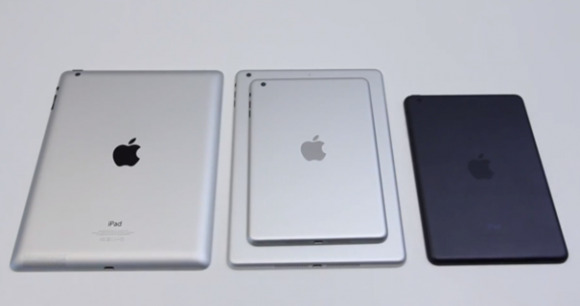 Videos showing what's purportedly leaked casings for the upcoming iPad 5 and iPad mini 2 have emerged, teasing the next-generation hardware and suggesting Apple has considerably slimmed its full-sized version. The comparison footage, shared by Unbox Therapy, shows the new 9.7-inch iPad, although packing the same display size as before, is now roughly the same thickness as its slimline little sibling.
That's impressive stuff, given the thickness – or lack of – of the iPad mini was one of the things most admired about the iOS tablet when it was first launched. Obviously the new iPad 5 is both wider and longer than the 7.9-inch version, but a more squared-off rear casing means it's roughly the same in depth.
iPad mini 2 leaked casing video:
That means the retirement of the tapered edges familiar from the past few generations of full-sized iPad. Apple brought in that design, in part, to make the tablet feel thin in the hand, even if the dimensions themselves weren't necessarily the smallest: that's because Apple actually needed to make the iPad slightly thicker in its third generation, in an attempt to accommodate all of the components necessary for the Retina display upgrade.
Still in question is whether Apple will also bless the iPad mini 2 with Retina resolution. Most rumors point to yes, though what that might do to the price is unclear. One possibility is that Apple will keep on the existing iPad mini as a cheaper, entry-level version, slotting the Retina upgrade in further up the price scale.
iPad 5 leaked casing video:
Also unknown is whether Apple will bring the new tablets to its event on Tuesday, September 10th, or if that will solely be for the widely-expected iPhone 5S and iPhone 5C. We'll know more when we head to Cupertino for the event next week, so join us from 10am PT for all the news in the SlashGear liveblog.
VIA 9to5Mac