iPad dominance slides as Samsung and Amazon tap tablet sales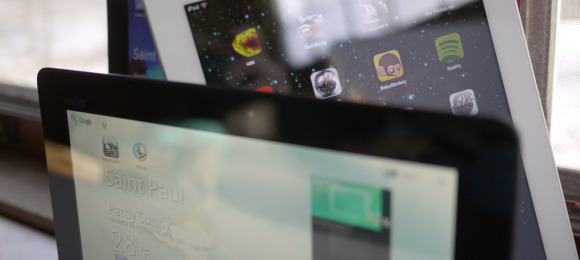 Apple's iPad saw its market share slip more than 15-percent in Q3 2012, according to new research, with Android tablets from Samsung and Amazon clawing away sales amid a growing market overall. While still dominating the tablet market overall, with a 50.4-percent share in Q3 so IDC reports, the iPad faced huge growth from Samsung in particular, which saw a year-on-year increase in market share of 325-percent.
According to the researchers, Samsung jumped from 6.5-percent market share in Q3 last year, to 18.4-percent in Q3 this year. It also saw a 115-percent increase from Q2 2012, and overall takes second place in IDC's global leaderboard.
Amazon, too, took a bite out of Apple's dominance, with the Kindle Fire HD line-up propelling it to third place and just under a tenth of the market. ASUS was helped to fourth place, Google's Nexus 7 working its budget magic, while Lenovo snatched fifth place.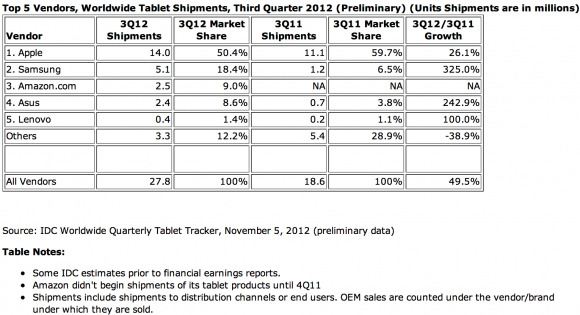 According to IDC's number counters, it's Samsung's range of size options that helped it find so many buyers in 2012. "Samsung took advantage of an opportunity in the second quarter," program manager Ryan Reith suggests. "The company offers a wide range of tablet offerings across multiple screen sizes and colors, and that clearly resonated with more buyers this quarter."
The fact that the iPad mini extends the company's tablet footprint into new screen sizes both works for and against Apple's sales, IDC argues. The long-standing rumors of a smaller model may have dissuaded buyers of the existing, 9.7-inch version, it's believed, though there's the potential for a good quarter ahead now that the 7.9-incher is on sale.
However, pricing could still leave room for Android tablet OEMs to slip through. "[The] mini's relatively high $329 starting price leaves plenty of room for Android vendors to build upon the success they achieved in the third quarter" research director Tom Mainelli highlights. Google in particular reacted aggressively to the iPad mini, ditching its 8GB Nexus 7 and replacing it with a 16GB $199 model.