iPad Air pricing replaces iPad 4 aside 2nd gen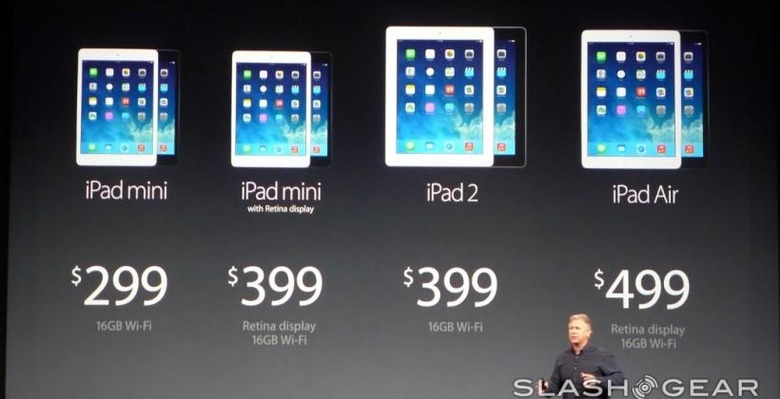 Apple has officially unveiled the latest iPad. The 5th generation slate has been dubbed the iPad Air and it brings the familiar sized 9.7-inch display. Though, while the display size may be the same — the tablet has gotten smaller both in terms of overall size and weight. We broke down the specs in an earlier iPad Air post, so this time around the focus will be on the pricing and availability.
Apple will have the new iPad Air shipping on November 1st and with a price point of $499. Well, a starting price point of $499. And in addition, an LTE model will also be available with a starting price point of $629. The fifth-generation iPad Air will ship in silver and white as well as space gray and black. Just to clarify, the iPad Air serves to replace the iPad 4.
There will also be some cover options available for the iPad Air. Apple has introduced two options for the tablet. There will be a standard cover selling for $39 and a leather cover selling for $79. Similar to what we have seen in the past, these covers will be available in a variety of colors, including a special Product Red version
Finally, for those looking to pick up an older model iPad at a discounted price, you will have the iPad 2 as an option. Apple has said the iPad 2 will be sticking around for $399 (16GB). Of course, alongside the iPad Air and option to purchase an older model iPad 2, Apple also unveiled the new-generation iPad mini.