iPad Air 2 with anti-reflective screen in production tip sources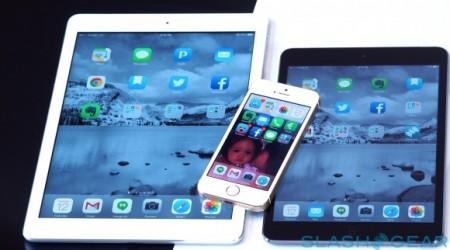 Apple's new iPads are already in production, according to the latest supply chain leaks, with a refreshed iPad Air said to use a new anti-reflection coating that should make it easier to read on. The 9.7-inch iPad could get its official reveal as soon as the end of Q3 2014 or sometime earlier in Q4, insiders told Bloomberg, as well as giving a little extra news on the new iPad mini, too.
The third-generation iPad mini is also going into production now, the sources claim. It will "probably" go on sale by the end of 2014, it's suggested.
However, it's unclear if it will have the same anti-reflective treatment that Apple is tipped to be using on the iPad Air 2.
Previous leaks have suggested Apple will make the new Air even thinner than the current model, as well as further following the styling of the iPad mini with Retina display.
It also looks likely that Apple will fit the iPads with Touch ID, the fingerprint biometrics system that is already available on the iPhone 5s.
The broad potential window for a launch could in part be down to manufacturing issues around the new display treatment, it's suggested.
Sales of the iOS tablets were the one blip in Apple's performance in the last quarter, with some analysts suggesting that owners were seeing little reason to upgrade from their current model.
SOURCE Bloomberg