iPad 5 keyboard prototype the first of many homebrewed accessories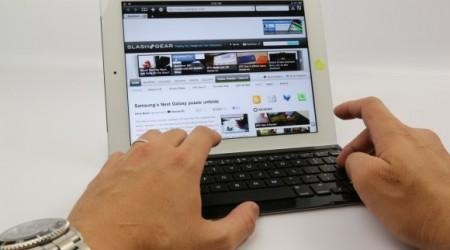 In what could very well be a big shake-up for the accessories industry built around Apple's mobile smart products, it's been tipped today that the company is making its first of what may be many accessories for the iPad 5. This fifth-generation iPad is set to be revealed tomorrow in an event that will also play host to the 2nd generation iPad mini as well as a set of new MacBook Pro units to usher in iOS 7 for tablets (already in the wild today) as well as OS X Mavericks. Apple's first accessory for the iPad 5 (outside the current Smart Covers) is said to come in the form of a Keyboard Case.
This Keyboard Case is being suggested by insider Jamie Ryan as being prototyped at the moment. It's not clear at the moment if this device will be ready for action by the time the event tomorrow takes place, but it's possible they will mention this (and/or other similar accessories) at the event for future production. This could be Apple's first big move for the iPad as a quite-different product from the iPad mini.
If the iPad is henceforth marketed as a product that can be used for entertainment as well as business, a single accessory – not all that unlike that of a variety already on the market – will need to be made by Apple to make it happen. The biggest jump in to accessories Apple has made thus far has been the Smart Covers which still exist for iPads today – magnetic, colorful, and able to shut the display of the iPad off on contact.
NOTE: Above you're seeing the Logitech Ultrathin Keyboard Cover for iPad, reviewed by SlashGear back in April of 2012.
With the release of the iPhone 5s and iPhone 5c, Apple once again suggested that they're not unwilling to delve into the accessories market that a massive number of manufacturers rely on for their own livelihood. Apple has proven, at this point, that they're not going to leave this stone unturned.
The idea that Apple is competing against the Microsoft Surface with keyboard covers is a little more far-fetched, but the comparative releases cannot be denied. If this keyboard cover exists, it'll be interesting to see Apple start to make the move towards content creation with the iPad as a main ingredient of the machine. Ryan suggests that he's been told by those familiar with the subject that other "cover like accessories" are being "looked at" as well. We may have a whole new door for Apple to move through sooner than later.
Have a peek at the iPad tag portal right this minute to track the iPad 5 up to this point, and don't forget to jump in on our full Apple Liveblog on SlashGear Live starting at 10AM PST on October 22nd, 2013 – that's tomorrow!