iPad 3G data plan the real star of Apple's show?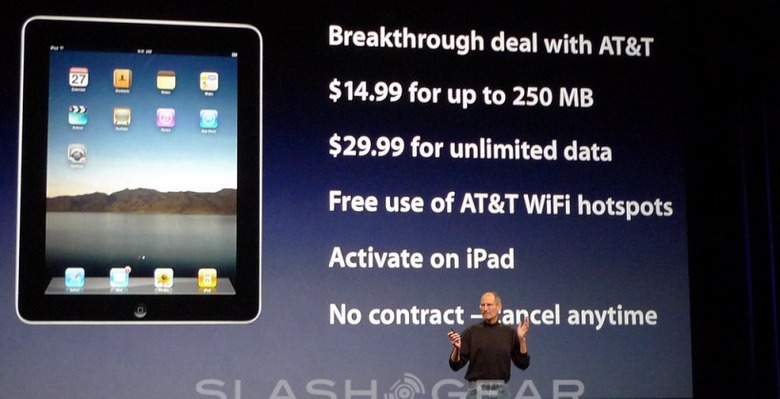 Apple have never been impressed with netbooks – they've consistently criticized the budget ultraportables and maintained that they have no interest in producing one – but with the Apple iPad Steve Jobs basically declared war on netbooks.  After opening with a snub – "netbooks aren't better at anything – they're just cheap laptops" – Jobs went on to rub salt in the wound with the launch of a 3G data plan that's half what netbook buyers are currently expected to pay.
With AT&T – a carrier who will happily sell you a $60 per month, two year data agreement either with a USB modem or a netbook with integrated WWAN – Apple revealed iPad 3G pricing of $14.99 for 250MB or $29.99 for unlimited data.  Leaving aside the first plan, which we've a feeling the allowance of which most iPad users would merrily sail through, that $29.99 is just half what AT&T would charge all other users.
It doesn't stop there: the iPad's data contract is, in fact, a pre-pay system and contract-free.  Handled from the iPad itself (so you don't need to deal with AT&T's in-store or telephone assistants), you can choose to grab a month's data when you need it or, conversely, cancel the connectivity with no penalty.  Try doing that with your iPhone 3GS data plan, or your netbook 3G plan, and AT&T will be far less accommodating.
To be fair, the iPad isn't offering quite the same web experience as a netbook might.  Jobs may have described them as "cheap laptops" but a cheap laptop can still play Flash content and multitask with other apps.  Once the Flash 10 beta arrives, however, and Apple decide to put that homegrown 1GHz Apple A4 processor to work with multitasking (which seems, frankly, inevitable), the gap is going to be significantly reduced.  Put aside whether you reckon a 9.7-inch multitouch slate might fit into your life or not; the iPad's 3G data agreement could just be Apple's biggest surprise of the day.
Apple iPad detail hands-on demo:
[vms f030b4f67eeaeba30110]
Apple iPad hands-on:
[vms 96b8c65b75d2ef826733]