iPad 2 Wifi Teardown ala ifixit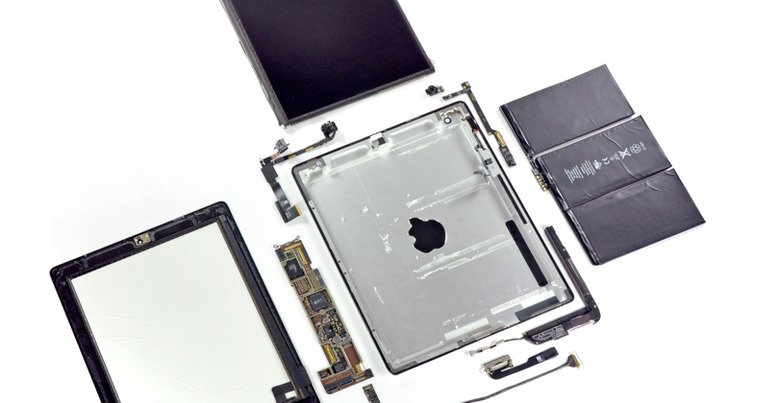 Those down-breakers are at it again, this time with the BRAND new iPad 2, this one of course being the 16GB Wifi version – the one yours truly also got today. This lovely device with a first step that would make any breakdown newb shudder in their boots – heating the iPad 2 up with a heat gun! This is of course to break down the effectiveness of the glue that holds the front panel to the back, they then using a simple plastic opening tool to pop the front on. There were no clips at all, just a whole heck of a lot of really well-placed glue.
Important note to make here – they did end up cracking the front panel in the process, so if you're not into breaking the device you're attempting to break down, halt your movements immediately. From glue on, it's perfect simplicity. Apple products of such a simple nature on the outside are quite often just as lovely on the inside, and the iPad 2 is no exception. Once to LCD is popped up, the iPad 2's batter is revealed: A 3.8V, 25 Watt-hour unit. They note on ifixit that this is just a tiny bit better than what they found on the original iPad, so any longer life to be found on this unit, or any congratulations rather, should really be given to the software and other related hardware components.
Inside there were few surprises, the ICs on the logic board actually appearing to be exactly the same as they were for the first iteration of the tablet. A couple other components they found inside with interesting names are thus: a Texas Instruments CD3240B0 11AZ4JT G1 touchscreen line driver, a Toshiba TH58NVG7D2FLA89 16GB NAND Flash, and the cool new A5 processor which was JUST BAKED it seems, as it's got January and mid-February 2011 manufacturer dates. Hot stuff!
Overall though, the device only warranted a 4 out of 10 (10 is easiest to repair) Repairability Score. That's harsh. Don't go breaking the iPad 2's heart anytime soon unless you picked up a full repair plan straight from Apple! Take a peek at the rest of the details from ifixit [back in their guide.]