iPad 2 Sold Out In China In Less Than Four Hours

The Apple iPad 2 had just launched in China early this morning and was sold out in less than four hours, according to the folks at M.I.C. Gadgets. Despite the copious iPad copy-cats you could probably find in the country's electronics shops, the genuine iPad 2 still drew outrageous crowds.
M.I.C. Gadgets took several photos of the launch at the Beijing Apple Store. There were hundreds of customers and scalpers alike, plus plenty of security personnel on hand to ensure no line cutting and no fights between customers and scalpers.
Apparently the scalper presence is so commonplace over there a large yellow sign board was erected with the following message (translated by M.I.C. Gadgets):
"This district forbids scalpers to sell stuff to customers... Behind the yellow board, it's a special zone for scalpers to gather around."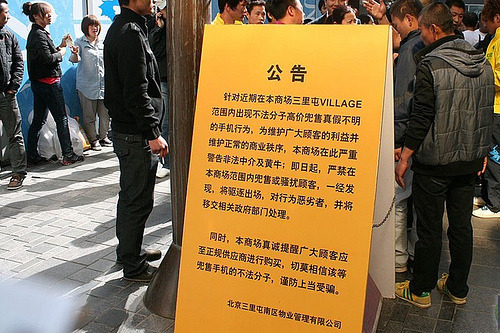 Scalpers outside were spotted with stacks of iPad 2s, and they generally sold them for a markup of 200-400 yuan ($30-60). And considering that the tablets sold out in less than four hours, the scalpers must have done well.
The iPad 2 had sold out in less than a week in South Korea, Singapore, and Hong Kong. The supply shortage is now believed to involve the LG supplied displays.
[via M.I.C. Gadgets]