iPad 2 FaceTime, Camera and PhotoBooth support spotted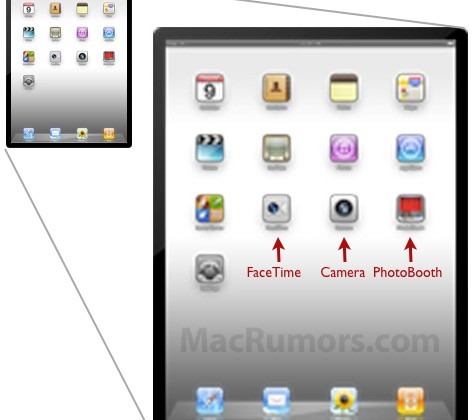 A new set of icons in iOS 4.3 Beta 2 have seemingly confirmed that the second-gen iPad will have a front-facing camera. Icons for FaceTime, the Camera app and PhotoBooth have all been spotted in a preview graphic for iPad wallpaper selection, with the three new images recognizable from the iPhone and OS X.
The Camera app is straightforward, offering a simple way to use the iPad 2's camera to take snapshots and, presumably, record video clips. It's unclear at this stage – though rumored to be the case – whether the iPad 2 will have a rear camera for photography as well.
As for FaceTime, that will allow for video calls over WiFi with iPhone, iPod touch and Mac users from the second-generation slate. Finally, PhotoBooth has various filters to modify pictures and video; the new beta makes mention of Thermal Camera, Mirror, X-Ray, Kaleidoscope, Light Tunnel, Squeeze, Twirl and Stretch. Previous digging suggested the iPad 2 would also have a proximity sensor.
[via MacRumors]