iPad 2 and iPhone 5 multi-core tipped by iOS benchmark tool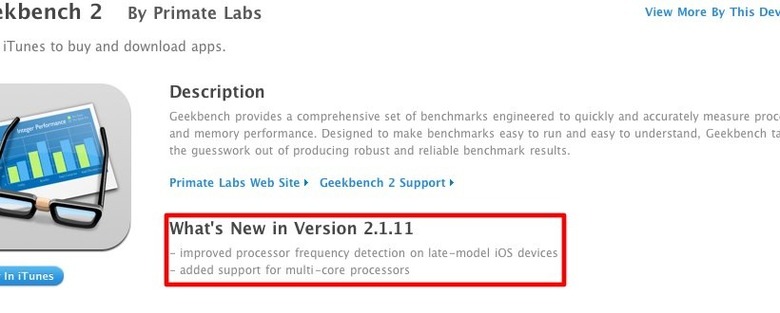 Further evidence to suggest the incoming iPad 2 and iPhone 5 will use a new, multi-core processor has emerged, with iOS benchmarking tool Geekbench 2 [iTunes link] being updated recently with new "support for multi-core processors." The app, available on iTunes for $0.99, runs performance tests on processor and memory; however, so far all iOS devices have used single-core chips.
This updated version, however, could test iOS devices based on so far unannounced chips. It also tweaks the processor frequency detection on late-model iOS devices, something which could be more important should Apple use a chipset with asymmetric ARM cores that can each be run at different speeds depending on overall load, something which is used to reduce power consumption.
Now, Primate Labs – the developers of Geekbench 2 – might simply be looking to future-proof the app; their desktop version of Geekbench already supports multi-core chips, after all. However, we're assuming they've spent the development and submission time believing it's worthwhile, and that could well imply a dual-core device – initially, we're guessing, a dual-core iPad 2 – in the near future.
[via iTechNewsNet]