ioSafe N2 fireproof and waterproof NAS Indiegogo campaign kicks off
Using network-attached storage is a good way to make sure that your important data is safe from things like hard drive crashes and security breaches, but what happens when natural disasters hit? Most NAS systems don't protect against water and fire damage, but ioSafe has a new NAS that protects against both of those. The company has introduced the ioSafe N2, which is a fireproof and waterproof NAS, but in order for this product to see the light of day, it needs your help.
That's why ioSafe has launched a new Indiegogo campaign to raise funding for the N2. Before we jump into the campaign however, let's cover some of the basics of the N2. The ioSafe N2 is a dual redundant disk system supporting up to 8TB (2 x 4TB) of storage and RAID 0/1. It comes packed with a 2GHz Marvel CPU and 512MB of RAM, with the motherboard and the CPU taking advantage of Synology DSM. The N2 also comes with a Kensington Lock Slot to keep it safe, and starting in Q1 2013, ioSafe will be offering a floor mount and padlock kit to go along with the N2.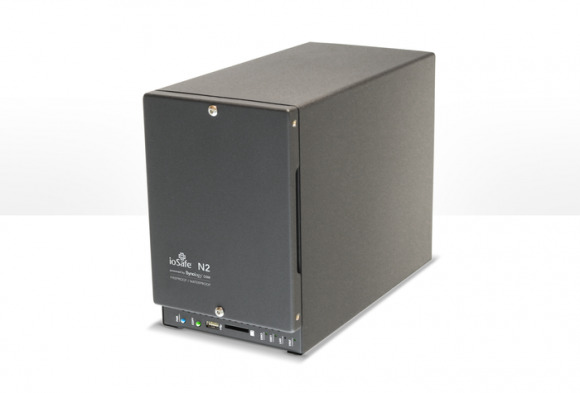 The N2 can withstand temperatures up to 1550°F for 30 minutes, keeping your data safe the whole time. It can also be submerged in up to 10 feet of fresh or salt water for 72 hours with no data loss, which is pretty impressive. Naturally, once the N2 has been connected to your network, you'll be able to store and retrieve data locally or remotely, and through using the Cloud Station app, you can easily sync files between multiple computers and devices. Speaking of apps, the N2 comes packed with a number of them, letting you easily share or stream pictures, music, documents, video, and other data with other devices and those who have been given access to your N2.
The N2 also comes with a 1-year warranty and 1 year of ioSafe's Data Protection Service, provided your N2 uses hard drives that were supplied by ioSafe. Extensions on the warranty and DPS will be handed out to ioSafe's Indiegogo sponsors as more funding is raised, as will increases in storage space. At the time of this writing, ioSafe has raised $5,751 of the $150,000 needed to make the N2 a reality, with 30 days left to go in the campaign. Should the campaign turn out to be a success, ioSafe founder Robb Moore says that the N2 should release in January 2013.