iOS 9.3 release notes: update now for "Night Shift"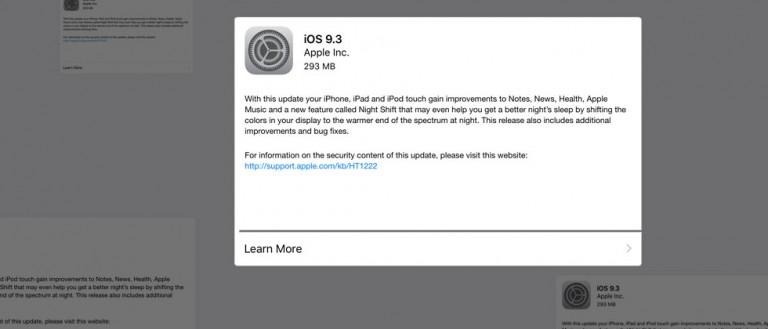 This afternoon Apple released iOS 9.3. Assuming you're all about hitting the download button as soon as possible, now's the time. Today we'll be going over the features you should expect in a very brief sort of manner. These bits and pieces will come to your device dependent on the newness of your device, considering especially the power of the processor inside said device. What you'll want to see first is Night Shift.
The newest version of iOS can be had by tapping your device's Settings icon, going to General, and hitting the Software Update button. Therein you should find an iOS 9.3 update waiting for your right away. Basically immediately.
1. Settings
2. General
3. Software Update
The most interesting of the updates in this kick in the pants to iOS is Night Shift. Without a doubt. In Night Shift mode, your iPad or iPhone will use its clock and geolocation to decide whether the sun is going down, coming up, sitting on your side of the Earth or the opposite.
When night falls, the colors of your device's display move "to the warmer end of the spectrum" and – according to Apple, "may even help you get a better night's sleep."
Notes is also updated with the ability to protect your data with Touch ID or a passcode. This effectively places the entirety of the Notes app under the protection of the smart encryption abilities of your iPhone or iPad – something you might want to consider, considering events of late.
The iBooks app has been updated to include PDF iCloud support. This means that your massive collection of PDFs from work can now be seen on all of your devices after you've tapped the iCloud icon on just one of them. Easy as can be.
Above you'll see a gallery that contains all release notes from iOS 9.3, as provided by Apple. Here you'll find all the bug fixes you could ever desire alongside updates for the apps you likely either use daily or never, not even once, not at all.