iOS 7 traffic appears as WWDC approaches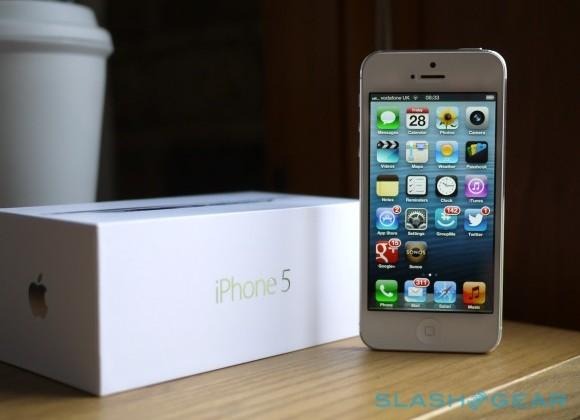 Apple's annual WWDC conference is set to begin on June 10, which just over a month away. It's expected that Apple will unveil some new hardware and software during the keynote, including iOS 7. As rumors of an updated version of iOS have been surfacing over the past few weeks, we've started to notice bits of traffic from iOS 7 devices appear in our analytics logs, hinting to the possibility that iOS 7 is being alpha-tested.
Here at SlashGear, as well as at several other websites, we have noticed iOS 7 traffic appear in our logs: seven visits all occurring on May 2. Other websites have reported traffic starting around the April 29 mark, which looks to be the day that Apple either started or expanded its internal testing program for the new iOS version.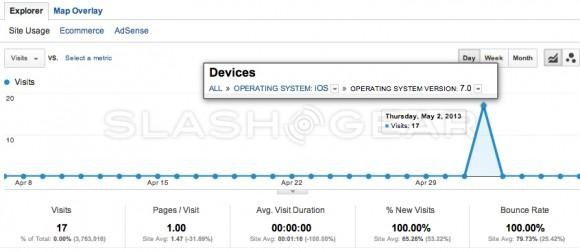 According to mobile site conversion company OnSwipe, most of the iOS 7 traffic was coming from either San Francisco or Cupertino, where Apple's headquarters are located. Plus, iPhones accounted for 75% of the iOS 7 traffic, with iPads taking care of the other 25%. Let's just hope no beta tester leaves an iOS 7 device in a bar this time.
As for what we'll see in iOS 7, there's expected to be a major redesign of features and default apps, since design guru Jony Ive has taken over iOS. There's really no solid details other than rumors, but we could see a more flat, minimalistic design throughout the new look, but we'll have to wait and see what Ive has up his sleeve come next month.
[via TechCrunch]