iOS 7 Adoption At 30% As Tracked By Mixpanel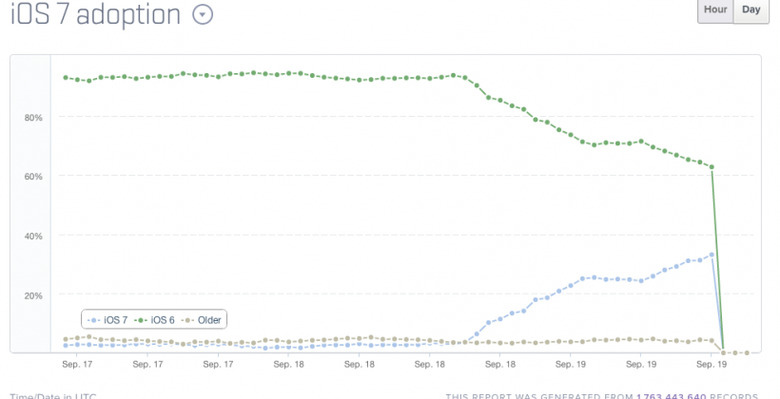 Less than 24 hours ago, Apple released iOS 7 to the public, resulting in massive amounts of downloads and what analytics group Mixpanel suggests is a staggering adoption rate. The team at Mixpanel have ushered in their tracking chart – as they often to – of the newest Apple mobile operating system as it's hit the public. Over the past several days – since September 18th, Mixpanel's "1,763,443,640 records" show iOS 7 adoption moving from 10.2% up to 33.13% – that's a sampling of the whole world, suggesting a third of users out there in the wild have updated their internet-accessing iPads and iPhones and iPod touches already.
Yesterday at some point – right around half-way through the day, it would seem, Apple began rolling out iOS 7. This is the newest and perhaps most revolutionary iteration of iOS since its inception – it's a big change for the Apple mobile devices ecosystem, that is to say. As is almost always the case, Apple's introduction of this software as a free download for all compatible devices created at least a tiny bit of a clog in Apple's servers, resulting in some slow bit of uptake (based solely on our own social networking responses and chatter from overly zealous fans, of course).
Now that iOS 7 appears to be able to be downloaded at a standard rate – right around 6 minutes on average for iPhone or iPad devices on your everyday wi-fi connection – the real adoption has begun. You'll find that – again, according to Mixpanel results – it's suggested that iOS 6 usage goes down aligned essentially perfectly with adoption of iOS 7, suggesting that most users (95% or so) are simply updating from the next-newest Apple mobile OS to the newest one.
If Mixpanel's numbers hold, you'll find the following math being done by some sources today – but beware: there are slightly less than 700 million iOS devices sold at this point in this month since the beginning of iOS. Some will suggest that this means that 1/3 of these devices (233.333 million) will be on iOS 7 as we speak. The fault with this assumption is the idea that ALL iOS devices since the beginning of iOS are able to upgrade to iOS 7.
It also assumes that all iOS devices ever sold are still active. Keep this in mind – there's a big difference between the number of iOS devices sold since the start of the platform and the number of iOS devices still active today. It's not that simple.
Meanwhile Mixpanel results – which, again, are based on their own analytics of online and app-based platforms (similar to that of Google Analytics) and not precisely, explicitly outlined as they would be in a poll of users. We'll be continuing to track this adoption of iOS 7 on the update as we continue to expand on our full iOS 7 review – stick around for different angles!