iOS 5 Review
Apple iOS 5 is, arguably, the version we've always been waiting for. New iOS builds have always introduced new features, but in iOS 5 Apple sets out its digital hub ecosystem, the culmination of a decade of product positioning and service development. It also brings very specific challenges to each of Apple's key competitors – Siri as the answer to Android's voice command system, iMessage to take on BlackBerry Messenger – in addition to addressing some of the longer standing complaints iOS users have had. Read on for the full SlashGear review. Be sure to also check out our iPhone 4S review!
Notification Center
Until now, the iOS notifications system has been the area of the platform, which was most un-Apple. Attention-stealing, unattractive and – worst of all – inefficient, the pop-up notifications were a problem that was only getting more significant, as apps proliferated and more services clamored for their share of our eye-time.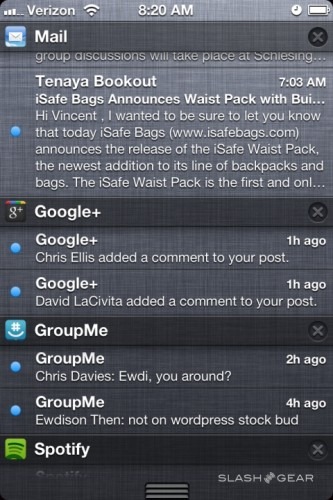 iOS 5 addresses that with an all-new system for notifying updates and alerts. At first glance it's something of a hybridization of the best we've seen on other platforms: new alerts slide in at the top, discrete as on webOS or Windows Phone, and can be tapped to respond immediately or left to disappear after a short delay. Alternatively, all alerts can be accessed by swiping down from the top of the screen, Android-style, to open up the Notifications Center itself.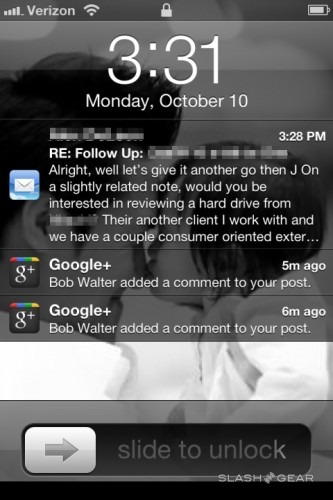 This has each new update sorted by app, as well as optionally showing the weather and recent stock movements. Each set of notifications can be cleared on a per-app basis – though not individual alerts, so you can't dismiss all but one outstanding calendar alarm, say – but it's worth noting that clearing an alert removes it from Notifications Center but not from the app itself. The lock screen also shows alerts now, and you can swipe them to go straight to the relevant app (though not clear them without unlocking the phone and opening the Notification Center). New voicemails are also readily accessible from the lock screen, with a smaller slide-bar automatically triggering playback.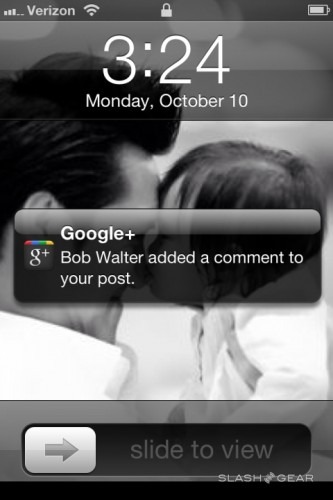 As an improvement over iOS 4.x it's huge, and anyone who has struggled to use an app or play a game without pop-up boxes distracting them will appreciate the changes. More granular control over what gets dismissed and what can be left on-screen would be useful, but they're relatively minor complaints.
iMessage
Instant messaging apps for iOS aren't uncommon, but Apple's own iMessage software in iOS 5 is likely to corner the market for most users. Supported on the iPhone, iPad and iPod touch – and with conversations synchronized across all the devices you're signed in on, meaning you can pick up a chat begun on your iPhone on your iPad instead – iMessage supports text, photo and video sharing over WiFi and 3G (depending on the capabilities of your device) along with location and contacts sharing.
The interface is familiar from SMS and MMS messaging on iOS, with a bubble interface showing in-line photo and video thumbnails. Delivery receipts and, optionally, read receipts are supported, so you know the recipient has seen the message, and those "are they there?" moments are diffused by iMessage showing "..." when the other person is typing.
Like BBM, all iMessage conversations are encrypted, which is likely to appeal to the enterprise crowd. It's worth remembering that the app falls back to SMS when the iMessage service isn't available, however, which means each chat bubble demands a new text message. That could eat through a text bundle fast, or get expensive if you're charged per-message, and it would be nice to see a way of shutting it off completely.
The biggest frustration, though, is the absence of a Mac or PC client, since iMessage works so well as an IM system. There are rumors of integration with a future version of iChat on OS X Lion, though nothing confirmed as yet.
Siri
Although new with iOS 5, only the iPhone 4S (review) will get to enjoy Apple's new Siri system. A combination of voice recognition, artificial intelligence and integration with Phone, Mail, Safari, Music, Messages, Calendar, Reminders, Maps, Weather, Stocks, Notes, Clock and Contacts, in addition to services like Yelp and Wolfram Alpha online, Siri can recognize not just a list of canned spoken commands but natural speech and complex tasks.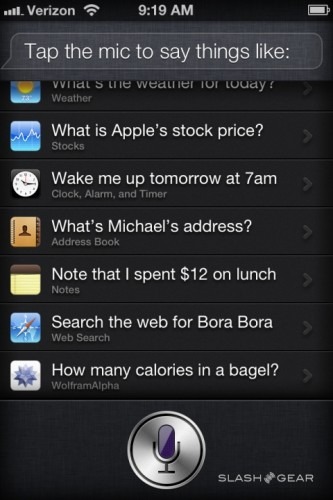 Hold down the Home button and you can ask Siri to call a contact, send messages to set up appointments – having automatically checked your schedule and slotted in a new reminder – find nearby restaurants that come Yelp recommended, manage your contacts and check the weather. That's the tip of the iceberg, however: the magic is in Siri's grasp of conversational instructions and ability to distill meaning from your speech.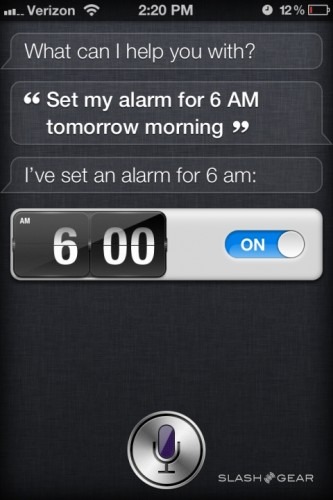 Since the Siri beta is currently limited to the iPhone 4S, we've detailed its performance in our full iPhone 4S review.
[vms 9d6c64a04e3ab9f63fee]
AirPlay Mirroring
AirPlay already worked with music, but with the arrival of iOS 5 the wireless media streaming system has been extended to support video, too. You'll need an iPad 2 or iPhone 4S in order to send video to your Apple TV (which must be a second-gen model), footage is streamed at 720p HD max, and for the moment there's no Mac mini or other Mac support either. Nonetheless, it works as you'd expect, supporting screen rotation and zoom, and we were able to play HD video jitter free across an 802.11n network.
Reminders
Our phones have quickly become the device we carry with us at all times, and so it's unsurprising they've also evolved to supplement our memory. Reminders is Apple's answer to the to-do list, supporting list and date-based tasks with tick-boxes for that "job well done" feeling. They're synchronized across iOS devices via iCloud – so a grocery list compiled on your iPad is automatically loaded onto your iPhone for when you're at the store – as well as with iCal and Outlook on your desktop. You can optionally set priority levels – though doing so has no real effect on how iOS 5 alerts you – or organize individual reminders by different lists.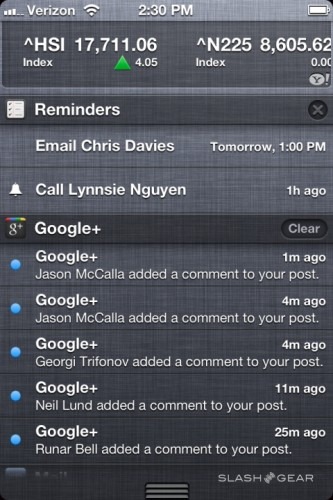 What's clever, though, is the location support. Rather than expect you to remember to check for that grocery list, Reminders can be set to automatically flag it up at a specific location from your Contacts. For shopping, that might be when you pull into the grocery store parking lot, or it could be when you leave whatever has been set as your work location. Reminders supports both "when I arrive" and "when I leave" as a trigger.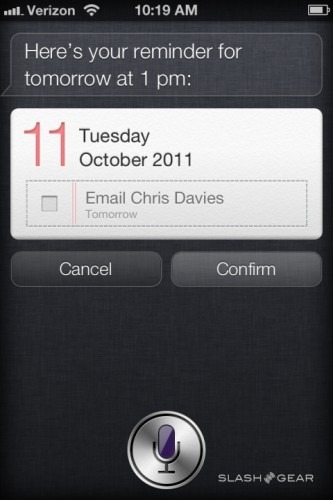 It's very dependent on having an accurate location fix, but in our testing the iPhone 4S was able to regularly notify us. One potential downside is the impact running Location Services – which iOS 5 uses to actively monitor your position and hence know when to flag up a task – could have on battery life, though even when the location icon is showing up in the status bar (which happens as soon as you set a location-based reminder) it doesn't necessarily mean the device is relying on GPS for a position fix. Instead it can be using far more battery-friendly systems like cell-tower triangulation, only resorting to GPS when you change position considerably.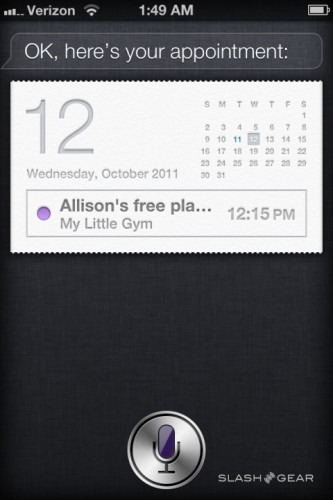 Twitter
Twitter integration into iOS 5 considerably boosts the sharing potential of the platform; assuming, that is, you're a Twitter user in the first place. After logging in from the Settings menu, you can then send tweets from Safari (URLs), Camera and Photos (images), YouTube (video links) and Maps (location links). Contacts has been updated to include Twitter handles, auto-completing as you type, and any tweet you send can have location attached.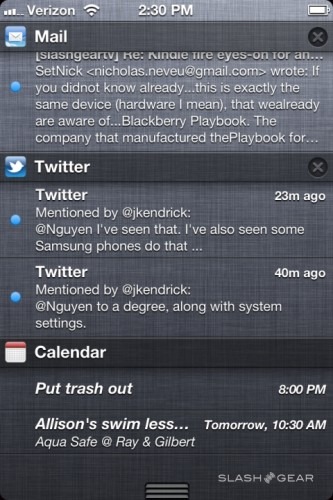 It's a big improvement and reduces jumping between apps to send content out via the popular short-message service. You're still dependent on what third-party services Apple chooses to include in iOS, however; unlike the Android "share" menu, which third-party apps can easily be included in, if you prefer say Facebook sharing to Twitter you're out of luck. The upside is simplicity, of course, and consistency of Apple's UI across Twitter shares.
Camera and Photos
Apple's camera hardware varies across devices – from the relatively low-resolution iPod touch and iPad optics to the new 8-megapixel sensor in the iPhone 4S – but the camera app itself has had a significant boost in iOS 5. It's now easier to access, thanks to a shortcut on the lock screen (or a double-tap of the home button when the device is locked) and faster to open, on the iPhone 4S at least.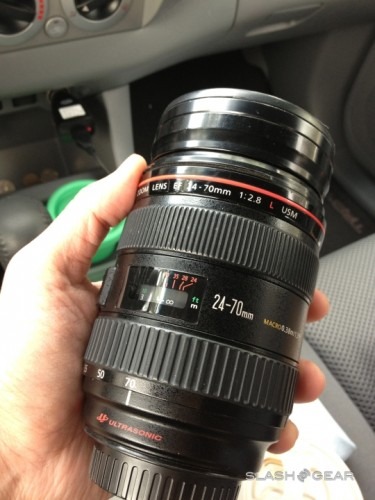 When you're in the app, there are optional grid lines to better frame your shot, and support for pinch-zooming. Tap-to-focus is intuitive and straightforward, and also locks the exposure to suit different light levels and the nature of your subject. The volume-up button has been repurposed as a shutter release when in the camera app, meaning it's easier to keep the phone steady when shooting off a frame.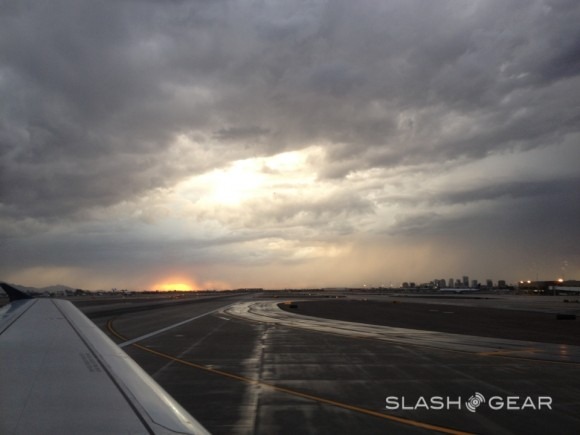 Once you've taken a picture, the Photos app supports basic editing including cropping and rotating, as well as photo enhancement and red-eye removal. It's also possible to organize shots into different folders, directly on the device. Apple still offers iMovie for iPhone and iPad to edit video you've recorded, too.
[vms 07526da55a679f0332de]
[vms 98da20044041262b3ac7]
Newsstand
Newsstand is an evolution of folder support in iOS, a customized layout designed to showcase your digital newspaper and magazine subscriptions. Tap the icon and the Newsstand shelves spring up, organized by the most recent issue, showing covers in full color. A Store button drops you straight into the App Store, with a new section for newspapers and magazines, with newly-released copies being downloaded in the background when available and flagged up on the Newsstand icon. If you're an avid subscriber then it's an easier way to manage your reading, though a list-view for easier browsing through previous issues would save some time.
Mail, Calendar and Safari
Email in iOS 5 has seen some polishing, with support now for simple font formatting – bold, underline and italic – as well as layout options like indents. Simple stuff in comparison to a desktop email app, but it makes for more flexible – and professional – looking messages sent when mobile. Other changes, such as being able to search not just by subject line but for in-body text are welcome improvements, while composing messages is slicker thanks to drag-&-drop support for recipients in the To/CC/BCC fields. Apple's auto-prediction and auto-correction in the on-screen keyboard are as adept as ever, among the best on a mobile platform, and with Siri there's now support for voice dictation too.
The Calendar app has new layouts, with a year planner view on the iPad and a week-to-view on the iPhone and iPod touch. It's quicker and easier to add appointments, too, with the new ability to drag out the duration directly on the agenda screen, rather than spin through time/date wheels. iOS 5 brings greater independence, too, with the ability to create, edit and delete calendars all from your device, rather than having to set them up on a computer and sync across. However, there's little calendar interaction with the new Reminders app, which seems short-sighted.
Safari has gained tabs on the iPad – though the iPhone/iPod touch still sticks with the separate thumbnail page – and a new Reader option similar to Safari on the desktop. Like Instapaper, this strips out adverts and unwanted page styling to show simply photos and text in an easily read layout. Along with bookmarking, you can now add a page to your reading list, a todo list of sites you want to come back to, and which is synchronized across all your iOS devices. Unfortunately, while mobile bookmarks are sync'd with Safari on your desktop, using iCloud, the Reading List isn't.
The browser itself is faster, too; Apple isn't making specific speed increase claims, but side-by-side with the iOS 4.x version you can see that pages render more quickly and scroll more smoothly. Considering the browser is often the most-used app on a smartphone, that's a welcome improvement.
PC Free and WiFi Sync
Apple is keen to cut the cord between iOS 5 and your computer, and gives two options depending on how PC Free you want to be. Nudged perhaps by people giving up a laptop in favor of an iPad, iOS 5 now allows you to set up a new iPhone, iPod touch or iPad from the device itself, rather than having to connect it to iTunes on your Mac or PC. You can activate it as a new device, for a clean slate, or use an iCloud Backup (more on which in a moment) or iTunes to restore data from a previous device.
The independence extends to software updates down the line, too. Rather than downloading new iOS versions in iTunes and then using the USB cable to transfer them across, iOS 5 devices can download and install them standalone, just like Android and other platforms permit. If you've ever wished you could restore an earlier backup to your iPhone while out of the office, or picked up an iPad in duty-free at the airport and realized you can't actually use it until you get back home from your holiday, then you'll instantly see the value of PC Free.
For those less interested in complete independence but still wanting to do away with the USB cord, WiFi Sync is the answer. Triggered every time you plug your iOS 5 device into a power source, WiFi Sync automatically triggers a device backup over a shared WiFi connection to your Mac or PC (more of which in a moment), as well as synchronizing any new iTunes content such as TV shows and movies, music, photos and apps. It's not as fast as a wired sync – you can still plug in direct if you have, say, an entire library of media to transfer – but it's a lot more usable than before, especially when you factor in iCloud.
iCloud
Free with iOS 5 and OS X Lion – after the 10.7.2 update released on Wednesday – iCloud is the evolution of Apple's MobileMe services to encompass media sync, cross-platform sharing and more. You'll need to have iTunes 10.5 in order to use it, but once each of your devices are up to date, the promise is a fully joined-up work, play and entertainment ecosystem. We'll go through each section individually.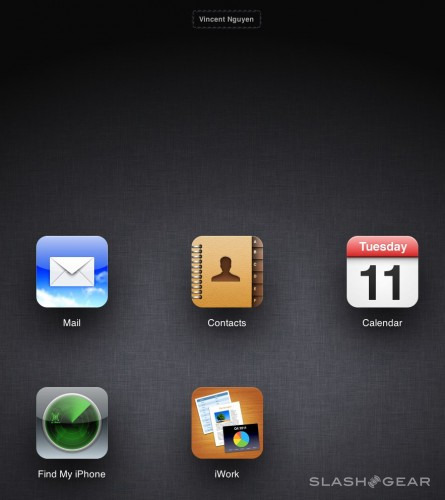 iTunes in the Cloud
At first, you bought an iPod and loaded your iTunes music library onto it. When you upgraded your iPod, you transferred the library and just carried the new model. With more people having two or more iOS devices, however – an iPhone and an iPad, say – and the increase in on-device content purchasing, iTunes no longer makes sense as the hub for all your music, video and photos.
Instead, iTunes in the iCloud takes center stage, relegating iTunes on your Mac or PC to just another arm of the Apple ecosystem. Buy a track from the iTunes Store on your iPhone, now, and it's automatically downloaded for your Mac, your iPod touch, your iPad – any device registered to the same account, in fact, and all done automatically. No need to wait until you're back home to sync across a newly purchased TV show between your iPod touch and your iPad: iTunes in the Cloud automatically does it for you.
The auto-sync behavior is optional – useful if you've got a low-capacity iPhone or iPod touch, for instance, and don't want it swamped with video content bought on your iPad – and there's a manual route for those users. Tap the "Purchased" option and you can re-download anything bought previously. Some content will have download limits, restricting the number of simultaneous or repeat downloads to ten or some other figure, which is a limitation of the licensing. Devices with 3G connections can be set to allow sync'ing over cellular data, or limit it to WiFi so as to avoid chewing through a data allowance.
Apple TV also gets in on the iTunes in the Cloud action, which means it's more straightforward to access content purchased while mobile when you're back at home. It's also a good workaround if you have a first-gen iPad or an iPhone earlier than the 4S, which don't support AirPlay Mirroring.
iTunes Match
Although streaming music services like Spotify – which allow full catalog access for a monthly fee – continue to gain in popularity, Apple hasn't thrown open its entire iTunes library on a subscription basis. Instead, the company now offers iTunes Match, a way to share all your music – even if you didn't buy it from iTunes – with all your devices. Priced at $24.99 per year (and available, initially, in the US only) iTunes Match scans your music collection and matches any tracks that are already in its catalog with a 256Kbps AAC DRM-free version.
Those tracks it recognizes are automatically synchronized across your devices from Apple's master copy. Those it doesn't have, it uploads to the cloud from your original. Playlists, too, are sync'd, and you can match up to 25,000 tracks.
If you've already got a sizable catalog of your own music, iTunes Match makes more sense – and is cheaper – than premium streaming services like Spotify. If your originals are lower bitrate, such as the 128Kbps MP3s commonly seen, then you're also getting a higher quality version to enjoy. On the flipside, of course, if your originals were ripped at a higher bitrate than Apple's master – in Apple Lossless format, for instance – you're losing quality in the name of convenience.
Photo Stream
Photo Stream works in a similar way to iTunes in the Cloud, pulling photos off your iPhone, iPod touch or iPad and synchronizing them across devices. Take a shot on your iPhone and it automatically appears in the Photo Stream album on your iPad, for instance. Shots are also pushed to your Mac or PC, while photos can be pushed back to your iOS 5 devices from your computer by importing them into iPhoto or Aperture on Mac or dropping them into a pre-selected sync folder on your PC.
What Photo Stream isn't is a permanent cloud backup of images. Only the latest 1,000 images are stored, for up to 30 days, with the oldest automatically being removed (you can't remove them manually, either). A Mac or PC automatically keeps every shot – on the assumption that it's likely to have plenty of storage space – but an iOS 5 device will only keep a copy if you actively select "Save to Camera Roll" (from where you can move it to an album if you choose). Apple TV owners can access the iCloud Photo Stream to browse the most recent 1,000 shots, though not save them locally.
In practice, there's something close to magical in seeing a new photo turn up automatically across devices. Apple included an iPad 2 running iOS 5 for us to test the system, and it's effectively seamless. It's also a lot quicker than emailing images between devices if, say, you want to use your iPhone's better camera but view on your iPad's bigger display. We'd like to see a shared Photo Stream option added: the ability to tune into someone else's public feed, great to show grandparents the latest holiday snaps.
Find My Friends
Find My Friends is Apple's answer to Google Latitude, a location-sharing app intended to be used to quickly locate family and friends. Your contacts' positions are shown on a map – with regular and satellite views available – and requests for your own position pop up as a regular notification. Location sharing can be either permanent, including parental restrictions on turning it on or off, or temporary, so that you can share your position for as long as an event lasts (e.g. until 7pm that day, or until the end of the week) and then have it automatically deactivate.
Usefully those temporary shares can be extended to a group of people rather than solely on a per-person basis, making it quicker to set up. Finally, it's possible to instantly shut off sharing to all of your followers with a single switch. Tapping a nearby person on the map pulls up their contacts page, from which you can trigger a call, email, message or iMessage conversation. It would be useful to see some sort of floating current-status message – like "Looking for lunch company" – for each person on the map, however.
Documents in the Cloud
The work-focused version of iTunes in the Cloud, iOS 5's document support operates with the iWork for iOS suite of apps: Pages, Numbers and Keynote. If you have one or more of those apps loaded on your various iOS 5 devices, files created and edited in them are automatically synchronized. If you haven't got the relevant app, or you're on your Mac, PC or a public computer, you can log in at icloud.com/iwork and download a copy of the document in either iWork '09 format, Microsoft Office format, or as a PDF. Similarly, you can share a document through this web interface to your phone or tablet, by dragging it to the site.
Apple is throwing open access to Documents in the Cloud to third-party developers, too, so that they can support file sharing across multiple iOS 5 devices along with web access.
Sync, Backup and Find My iPhone
Although multimedia sync is the main draw for iCloud, the rest of your data hasn't been forgotten. Contacts, calendar, mail, apps and books are all synchronized across devices, together with notes, reminders and browser bookmarks. It's possible to share calendars – which can now be created on the iOS 5 device – with multiple people, and Apple throws in a free me.com email account if you haven't already got your own.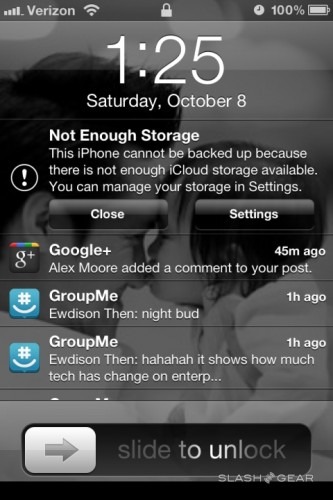 As mentioned with the WiFi Sync, iTunes now supports wireless backups over WiFi, whenever your iOS 5 device is on mains power and has the screen locked. Any purchased music, TV shows, apps and ebooks are backed up in the cloud, together with photos and video in your camera roll, any app data and device settings, the layout of your apps, your messages (including SMS, MMS and iMessage chat logs) and custom ringtones. It's a comprehensive list, and happily Apple uses incremental backup so a full copy of everything isn't transferred each time. On the flipside, any media you've sideloaded – e.g. tracks you've ripped from CD rather than bought from iTunes – aren't backed up, and if an item you've purchased, whether app, video, song or ebook, has subsequently been pulled from sale, you won't be able to restore it from the cloud. For that reason alone it's worth doing the occasional local backup over a USB connection to iTunes on your computer.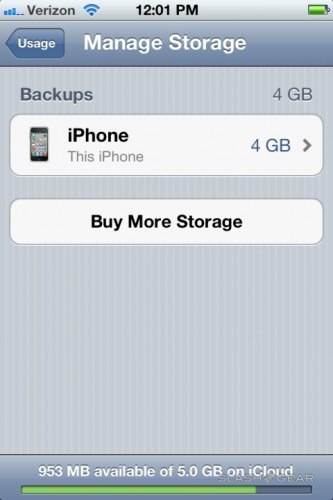 Find My iPhone works as before, offering a choice of browser-based or iOS tracking and remote control over a missing device. If it's online – either via WiFi or cellular data – then you can see it on a map; if it's offline, you can choose to receive an email when it next connects. As previously you can choose to play a sound – useful if you've dropped your iPhone behind the sofa – or show an onscreen message, remotely lock the device or even erase all the data. In this latest version, however, functionality has been extended to support Mac OS X Lion as well as iPhone, iPad and iPod touch.
Cloud Storage
Apple offers 5GB of free cloud storage space for all iOS 5 and Mac OS X Lion users. That's for me.com mail, sync'd documents and backup; saving or sync'ing a copy of anything you've bought from iTunes or the App Store doesn't count against that total.
If 5GB isn't enough, you can buy more directly from an iOS 5 device. 10GB is $20 per year; 20GB is $40 per year; and 50GB is $100 per year. There's no option to set up your own "personal cloud" using a Time Capsule router with integrated storage, for instance.
That's disappointing, because in our experience 5GB gets used up very quickly. Even with just our iPhone 4S review unit, after a few days we'd already got well past 4GB: if you have a second iOS device that you expect to backup to the cloud, plan on spending some money every year to increase your allowance.
Wrap-Up
As a free upgrade, it's difficult to argue with iOS 5. We've grown used to our devices gaining new functionality as the months go by: people even buy products today based on what they may well do tomorrow. Nonetheless, as updates go, iOS 5 is a considerable one. The Notifications Center would be welcome alone, and does a huge amount to make iOS feel fresher and ready to cope with the multitude of apps most iPhones, iPads and iPod touches end up running.
Factor in iMessage, and we can see BlackBerry owners giving iOS a second look. What's dangerous to RIM is not so much iMessage on the iPhone, but an affordable iPod touch running the IM client. It will need desktop support to fully pull ahead of BBM, but even limited to iOS it's usable and makes us wonder whether we'll ever need those messaging bundles from our carriers again.
Finally, iCloud is the glue that holds the new Apple experience together. It's not too great a stretch to say that iOS 5 – along with OS X Lion – has welcomed in the next generation of Apple's content ecosystem. Steve Jobs talked of Post-PC, and with its shifted focus from desktop to cloud, iOS 5 effectively downgrades your computer from essential to merely optional.
If Apple was charging for iOS 5, we'd tell you to pay for it. Free, and with iCloud services thrown in too, it could well be the bargain of the year.
iOS 5 will be a free upgrade for the iPhone 3GS, iPhone 4, iPod touch 3rd/4th-gen, iPad and iPad 2 this Wednesday, October 12. It will be preloaded on the new iPhone 4S – our full review of which you can find here.