iOS 5.1 released early for developers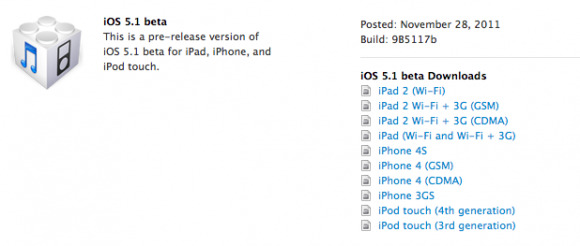 has released the first developer beta for iOS 5.1, making it the first real update since iOS 5 was released last month. A minor update, 5.0.1, was released earlier this month with the goal of addressing user's poor battery performance. There is much speculation that 5.1 will include updates to
, the iPhone 4S voice assistant, that will let users give instructions like turning on off settings like Bluetooth or Wi-Fi.
The release notes for the build do not give any specific information on what new features are in the beta. However, there has been mention of "iPad 2,4" found in the code, and this could be a sign of a 3G iPad 2 that will work on Sprint's networks in the U.S., seeing as how Sprint is the latest carrier to get the iPhone 4S. Currently, the iPad 2 3G is only compatible with AT&T and Verizon.
It was previously believed that the next update to come before the year's end would be 5.0.2, which was to further fix the battery performance that seems to be affecting many users. Seeing as how the 5.1 beta has now been released, it seems likely that Apple is solely focused on this update, and not another minor patch like 5.0.1. Apple has a pattern of putting out two or three developer betas before an update is completed, so it will probably be a few weeks before 5.1 is available for users to download.
[
Cnet]