iOS 10 official as Siri opens to developers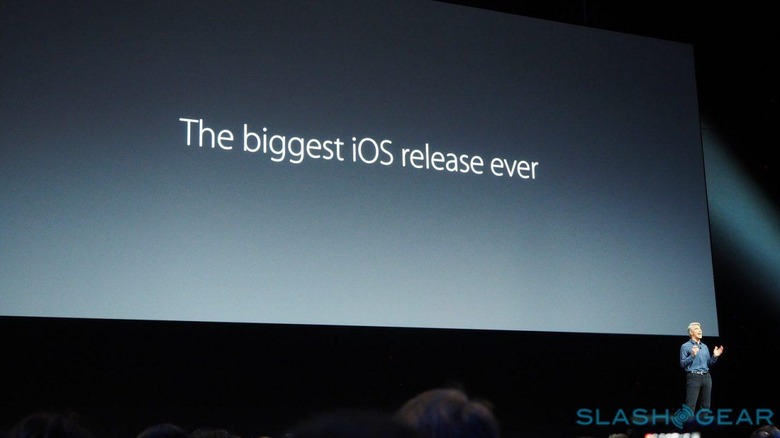 Apple introduced iOS 10 for iPhone and iPad this week at WWDC 2016, suggesting 10 new big features would come with it – at least 10, that is. The first of these was, obviously, user experience. This update would be the "biggest iOS release ever for our users," they said, and it'd begin with a redesigned lock screen. This update would expand on 3D touch, quick interaction with apps, and rich notifications through this screen as well.
Users will be able to work with notifications on the lock screen of the phone using 3D touch. Peek and pop. Poppin and peekin and making things happen. You'll be able to respond to messages and see status updates from apps that have stacked notifications with a 3D touch.
A new Control Center layout makes the entire system look a little bit cleaner – there's a slightly smaller space for AirPlay and AirDrop, as well.
This update to iOS will open Siri to developers.
As Apple's Craig Federighi suggests, "we're opening up Siri to developers." That could be big for those that've had natural voice interactions in mind for years without the resources to make them a reality.
Apple is also bringing Deep Learning to Siri, which could very well be creepy. In this case, it means Siri can read messages for you and present you with tasks and information that might be helpful – like filling in your calendar for you.
There's a new Photo Search feature that allows you to seek images using Shutterfly and Pinterest.
Apple added messaging support for Slack, WeChat, and WhatsApp.
You can now book a ride with built-in support for ridebooking with Uber, Lyft, and Didi.
Apple also revealed a new system that'll work with their Health initiatives called Workouts, which works with Runtastic and RunKeeper.
You can now call with VoIP using Spark, Vonage, and Skype – again, natively.
We'll know a lot more – and you'll subsequently learn the truth as well – as we continue to report on WWDC 2016 straight from the event center in which it takes place. Stick around our Apple hub for more all week!