Ion netbooks from $399; AMD Neo could 'crush' Atom says NVIDIA CEO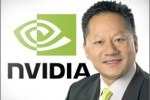 Netbooks using NVIDIA's Ion platform – that couples an Intel Atom CPU with a NVIDIA GPU – have a target price of just $399, and will give customers the "full PC experience" rather than the "inferior" performance of current devices.  That's the opinion of NVIDIA's plain-talking cofounder, president, and CEO, Jen-Hsun Huang, who has been talking with LaptopMag about the proliferation of mobile devices and ultra-low voltage chipsets.  According to Huang, today's netbook is "a low-cost PC that doesn't work that well" and that is in fact hurting the PC software industry due to its poor support for common applications. 
After the cut, Huang on Ion, AMD, MIDs and more
While Huang wouldn't suggest any possible release dates for Ion-based netbooks – though he claims "almost every single OEM in the world is exploring it" – he obviously feels that the platform is better than Atom alone.  In fact, "Atom by itself with Intel integrated graphics would get crushed" by AMD's Neo CPU and companion graphics chip, he claims.  Huang is complementary about both Neo and VIA's Nano platform – which he believes is "architecturally one generation beyond Atom" only held back by VIA's lack of software resources – not least because he expects the next-gen Ion to support them, together with all manner of other CPUs.
Huang also discussed the Tegra platform – NVIDIA's HD-capable mobile chipset – and its potential for devices with up to 10-inch displays.  These, he suggests, are possible netbook killers, as they could offer a full keyboard and 2-3 days runtime from a single charge.  He also expects to see $199 MIDs with full QWERTY keyboards, based on Tegra, that would be able to surf the internet for two days without rejuicing.
[via GottaBeMobile]