Iomega v.Clone promises easy portable virtualization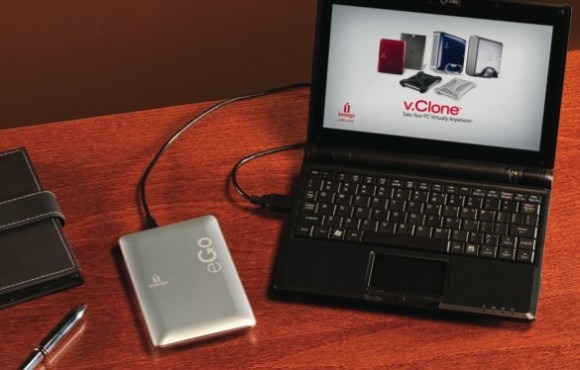 Iomega's new v.Clone app may not have the instant appeal of a shiny new piece of hardware, but it's a pretty neat piece of software that will be included on several of the company's external drives.  Iomega v.Clone aims to bring straightforward virtualization of a primary PC to a home audience, packing a clone of the OS together with all applications, settings and documents onto a removable drive which can later be booted into onto a second machine.
Any changes made to files, settings, media or anything else are then re-synchronized back to the original PC when the drive is plugged back in, and no data is left on the temporary host.  Iomega reckon it'll be useful for netbook users wanting more storage than their budget ultraportables can offer, together with those upgrading a machine and cautious about losing data, as well as people bringing work home from the office.
Iomega v.Clone will be available for free download to the company's eGo, eGo BlackBelt, eGo Encrypt Plus, and Prestige Compact Edition USB portable hard-drives, together with their eGo Desktop and Prestige Desktop Hard Drives.