Iomega StorCenter ix4-200d NAS: up to 8TB plus optional Bluetooth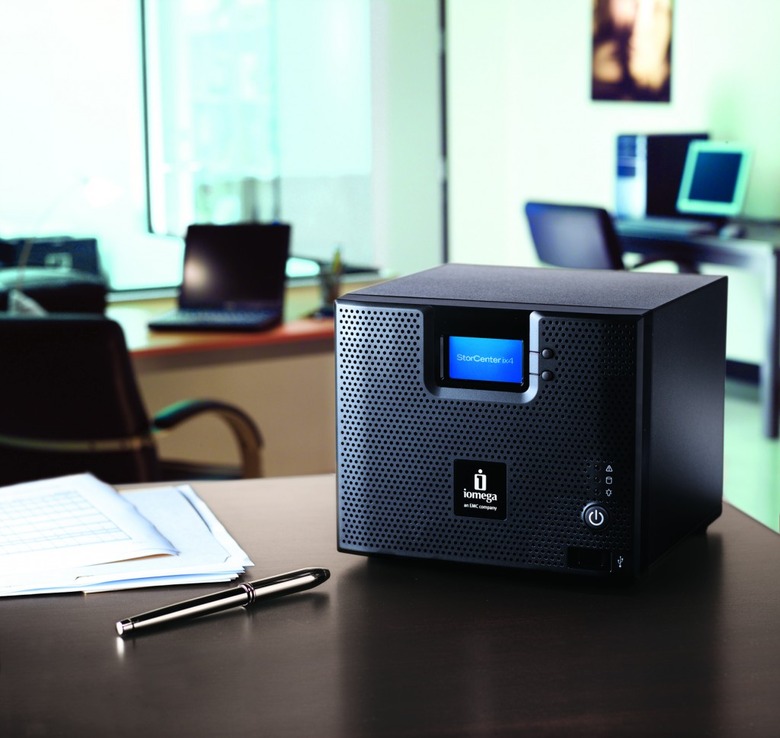 If only this were a desktop microwave-cum-coffee-machine, ideal for topping up your caffeine levels and heating up your harried lunches, but sadly it's just Iomega's latest NAS.  The Iomega StorCenter ix4-200d squeezes four SATA-II 3.5-inch drive bays into a reasonably compact footprint, promising RAID 5, 10 or JBOD setups and up to 8TB of standard storage.
In fact three models are on offer – 2TB, 4TB and 8TB – each with automatic RAID rebuild and iSCSI block-level access.  There are also two gigabit ethernet ports, three USB 2.0 ports – which support external storage or printers – and a one-touch transfer button that lets you navigate to a specific file via the StorCenter ix4-200d's LCD display and then copy just that document.
Despite really being aimed at small businesses, the NAS also supports UPnP media streaming and an optional USB Bluetooth dongle that lets you shoot files straight onto the drive from a phone, PDA or laptop.  There's also Time Machine support, Active Directories, and Video Surveillance with Axis network cameras.
All three models are available now, priced from $699.99 for the 2TB, $899.99 for the 4TB and $1,899.99 for the 8TB.
Press Release:
Iomega Announces High Performance yet Affordable Four-Drive NAS Appliance

With Innovative Features for Small Businesses and Distributed Offices

***

Virtualization, RSA Security, Data Protection, Replication, and Video Surveillance Technologies from EMC Enterprise Arsenal – No Dedicated IT Staff Required!

SAN DIEGO, August 27, 2009 – Iomega, an EMC company (NYSE: EMC) and a global leader in data protection, today announced the next generation of its quad-drive desktop NAS appliance with the worldwide launch of the new Iomega® StorCenter™ ix4-200d. Based on industry-leading enterprise-class EMC® storage technologies, the affordable ix4-200d is the ideal NAS appliance for small businesses, distributed offices and home office networks that require advanced data storage and protection features without the need for a dedicated IT staff.

Up and running in a matter of four mouse clicks and a few minutes, the ix4-200d NAS appliance provides up to 8TB* of networked storage that easily integrates with existing infrastructure for expanded storage, file-sharing and backup of critical business data. The ix4-200d delivers advanced features such as:

· iSCSI block-level access for efficient storage utilization

· Device-to-device replication to network targets for business continuity and file recovery

· Multiple RAID configurations for the highest level of data protection

· Windows® Active Directory support

· Remote access and management

· IP security camera support

· A new front panel LCD and QuikTransfer button for easy one-touch copying of selected files

· And unique to this category of products VMware® certification for virtualization installations – all at a starting price of less than $700.00.

Affordably priced for small businesses and home office use, the new Iomega StorCenter ix4-200d NAS appliance is now available to IT resellers worldwide via select distribution channels, and will be on display next week in the EMC booth at the VMworld 2009 tradeshow in San Francisco at the Moscone Center, Aug. 31 – Sept. 3.

EMC is also pleased to announce that as part of its Academic Alliance Program with more than 300 participating universities and colleges around the world, a StorCenter ix4-200d NAS appliance will be made available under special terms to each institution.

"The new StorCenter ix4-200d delivers the unquestionable advantages of EMC's world class enterprise storage technologies to small businesses and distributed enterprises in an affordable and easy to use solution," said Jonathan Huberman, president of Iomega and the Consumer and Small Business Products Division of EMC. "From device-to-device replication and iSCSI support to dual Gigabit Ethernet connectivity, VMware certification and other innovative and user-friendly features, the ix4-200d is an excellent yet affordable NAS appliance that gives smaller organizations and work groups not only cost-effective powerful network storage but many of the same sophisticated data management capabilities as a Fortune 100 corporation that no competitor can match."

Scott Zahl, vice president, vendor management for Ingram Micro U.S., one of Iomega's largest IT distribution partners, said, "Small business and consumer demand for efficient and affordable data protection, storage and backup solutions continues to grow as more people recognize the value in proactively protecting and being able to quickly recover their data. The functionality and overall performance found within the new StorCenter ix4-200d will enable our channel partners to deliver world class enterprise storage technology solutions at an affordable price and in a form factor that is easily managed. That's a great value proposition, especially in today's budget conscious marketplace."

Powerful, Versatile and Dependable to Meet Today's Data Management Challenges

Available in 2TB, 4TB and 8TB capacities, the new Iomega StorCenter ix4-200d NAS desktop appliance utilizes the acclaimed EMC LifeLine™ software, a fully-developed Linux operating environment and suite of applications that protects your data and performs valuable business tasks above and beyond simple storage, all designed to make it easy to securely store, protect and serve up data when you need it and where you want it. EMC LifeLine software is designed for cross-platform support with PC, Mac and Linux computers.

.

The ix4-200d can be configured with different levels of RAID support: RAID 5 (pre-configured) and RAID 10 (both with automatic RAID rebuild), as well as JBOD. The four drives in the ix4 are user replaceable SATA II hard drives that minimize downtime.

With dual Gigabit Ethernet connectivity and a high-performance embedded architecture, the ix4-200d boosts small business productivity by making data readily accessible and secure over a local network. The ix4-200d also has three USB 2.0 ports for adding printers or additional storage capacity with external USB drives.

In the home office, users also benefit from the ix4-200d's advanced media features, listed below.

Key Features of the StorCenter ix4-200d NAS Appliance

The new ix4-200d NAS appliance offers an array of additional features that make it one of the most advanced, innovative and easy-to-use network storage device for small businesses today:

Device-to-Device Replication (D2D): Copy or backup files to and from the ix4-200d to any other NAS device without the need for a client computer. Jobs can be set to run at pre-determined schedule or at the touch of the ix4-200d's QuikTransfer button. The ix4-200d uses either the rsync or Windows File Sharing protocol to transfer data between itself and another network storage device.

iSCSI Support: Provides block-level access for the most efficient storage utilization, especially for database, email and backup application performance. This feature also allows host-based operating systems and virtualization software to use the full capabilities of their native file systems, such as enabling VMFS for VMware utilization.

VMware® Ready Certification: The ix4-200d is certified as both NAS (NFS) and iSCSI storage for VMware vSphere. The ix4-200d is listed on the VMware hardware compatibility list, enabling small businesses and other work groups to affordably take advantage of the benefits and advanced features offered by shared storage in a VMware environment. The ix4-200d is the ideal storage match for smaller virtualization deployments that use the new VMware vSphere Essentials and vSphere Essentials Plus software packages.

Remote Access: Set up remote access and remotely manage and access data on the ix4-200d from anywhere in the world.

Multiple Network Protocols: Works in Windows, Linux and Mac environments with network protocol support including CIFS/SMB/Rally, NFS, and AFP/Bonjour. The ix4-200d also supports advanced protocols such as HTTP, FTP and SNMP.

Time Machine® Support: Lets Apple® users easily backup any Mac computers running OS X (10.5 or later) using Time Machine.

Windows® Active Directory Support: Allows the ix4-200d to function as a client member in an Active Directory domain, giving users and groups access to the ix4-200d.

UPS Support: Enables unattended system shutdown without data loss in the case of power failure.

Video Surveillance: Supports up to five Axis® Network video cameras, for real-time monitoring and video capture directly to the ix4-200d, without the need of a dedicated computer (dependent upon system workload and network conditions). The ix4-200d can be used as a storage target for other network surveillance cameras as well.

Print Server: Supports intelligent print sharing capability for up to three USB printers directly connected to the ix4-200d.

UPnP AV Media Server: Compatible with UPnP and DLNA certified media players, the ix4-200d streams photos, audio content and videos to not only laptops and computers but a variety of media devices, including game consoles (Xbox® 360, Sony PlayStation® 3), audio bridges, iTunes™ players, networked digital picture frames and other compatible devices.

Bluetooth® capability: Allows users to upload contacts, photos and more from a cell phone, pocket PC or Blackberry® phone (Bluetooth USB adapter required, sold separately).

Picture Transfer Protocol (PTP): Supports no touch, automatic transfer of photos from digital cameras via one of the four USB 2.0 ports on the ix4-200d.

Versatility: Supports read and write on various formats, including Fat32, HFS+, NTFS or ext2/ext3 formatted hard disks, .

Alerts: Provides email and SNMP notification for quick system status.

System Dashboard: Provides easy-to-understand status information on space utilization, device, peripheral and backup status.

Backup and Security Software for a Complete Solution

The StorCenter ix4-200d NAS appliance provides data backup and protection for any number of desktops and laptops with integrated EMC Retrospect® backup software. During the set-up process, users choose files and folders for scheduled automatic backups. After that, any changes or additions are updated and saved automatically.

The ix4-200d also comes with Iomega QuikProtect™ backup software for simple scheduled file-level backup of data to hard drives and network-attached storage devices.

For data security, the ix4-200d also includes RSA® BSAFE® encryption security technology for protecting installs and upgrades from viruses or malware. RSA is the security division of EMC that protects digital data at many of the world's largest banks.

Compatibility

The StorCenter ix4-200d NAS appliance is compatible with Windows®, Mac OS®, and Linux® PCs. The interface is localized in 11 languages (English, Spanish, Portuguese, French, Italian, Japanese, Korean, Traditional and Simplified Chinese, German, and Russian).

Price and Availability

The 2TB StorCenter ix4-200d NAS appliance is now available worldwide for $699.99, the 4TB model is $899.99, and the 8TB model is $1,899.99. (All prices are U.S. suggested retail.)