Iomega StorCenter ix2 NAS gets torrents & remote access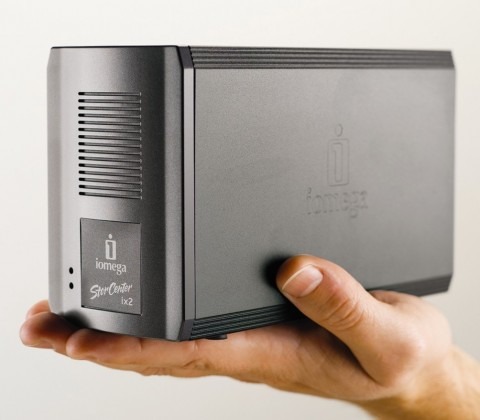 Iomega have announced an update for their StorCenter ix2 NAS, bringing torrent downloads, remote access with optional custom domain names, folder quotas and native support for the Apple File Protocol (AFP).  The StorCenter ix2 NAS itself is a compact storage device with gigabit ethernet, dual USB 2.0 ports and up to 2TB of capacity via a pair of SATA-II hard-drives.
Remote access is free for the first year, and then costs $9.95 per year thereafter.  Any web-enabled device can access files and allowed folders through a password protected interface.  Torrent downloads, meanwhile, allow users to switch off their PC and rely on the ix2 managing the download and storage.  Iomega have also included jumbo frame support for improved data flow across the network.
We reviewed the original Iomega StorCenter ix2 NAS back in October 2008, and were so impressed that it ended up in our holiday gift guide that year.  The 1TB StorCenter ix2 NAS is available for $299.95; meanwhile the 2TB version is priced at $479.95.  Optional extras include a USB Bluetooth dongle, which permits file transfers direct to the ix2 from a Bluetooth-enabled cellphone.  You can also plug in a USB hard-drive or printer and share them across the network.
Press Release:
Iomega Announces New Features for StorCenter ix2 NAS Appliance For Home and Small Business Users

Remote Access, Torrent Download and Many More New Features Without Compromising Heralded Ease-Of-Use

SAN DIEGO, March 17, 2009 – Iomega, an EMC company (NYSE: EMC) and a global leader in data protection, today announced exciting new features for the Iomega® StorCenter™ ix2 Network Drive, including remote access and peer-to-peer file sharing, as well as ease-of-use enhancements that make the ix2 NAS appliance one of the most versatile home and small business network storage drives available today.

"With the simplest set-up process in the industry, the ix2 not only provides home and small business network storage users with such important features as media serving, Bluetooth and video surveillance capabilities, now we've added remote access so users can connect to their files from anywhere in the world, as well as the new standard in peer-to-peer file sharing and much more," said Jonathan Huberman, President of Iomega and the Consumer and Small Business Products Division of EMC. "That's the power of network computing with Iomega and EMC."

The "New and Improved" StorCenter ix2 NAS Appliance

Here is rundown of some of the new features incorporated into the 1TB* and 2TB StorCenter ix2 NAS:

Remote Access: ix2 users can now connect to their pictures, videos and other files from anywhere in the world – as though they were sitting at their workstation or home computer. The process is simple: enter a personalized web address into any browser and the user will be easily and securely downloading and uploading their files. Users can change the settings on the ix2, such as adding users and folders from any web-enabled device. The first year of remote access is free; the cost is $9.95 for every year thereafter. Custom domain names, such as www.yourfamilyname.com, are also available for an additional charge.

Torrent Download: Considered by many as the new standard in peer-to-peer file sharing, this technology facilitates download management directly to the StorCenter ix2, making it easier and faster to download large media files. With direct file transfer to the ix2, users can say "Goodbye!" to frustrating unfinished downloads and having to leave your PC on all the time.

Folder Quotas: With all the digital content available today, storage space can disappear a lot faster than you think. Quotas allow users to set a maximum capacity for shared storage folders on the StorCenter ix2 to prevent any of the folders from consuming too much space. If a folder exceeds 90% of its capacity, the ix2 sends a message so the folder size can be adjusted, if desired.

Jumbo Frame Support: This new feature increases data flow for larger files when network traffic increases, allowing more efficient computing.

Apple® File Protocol (AFP): To simplify file-sharing for Mac users, the ix2 now includes native support of the Apple File Protocol (AFP) file system to facilitate copying files and networking from a Macintosh computer.

StorCenter ix2 – General Capabilities

With just four mouse clicks, users of the StorCenter ix2 can configure up to two terabytes of storage and advanced information management, protection and sharing capabilities that can be connected to multiple devices – including wirelessly with Bluetooth – to manage all their digital files.

For home users, built-in support for Universal Plug and Play (UPnP) and Digital Living Network Alliance™ (DLNA) certified devices means the recently DLNA certified StorCenter ix2 can save, store, and play back all kinds of multimedia files – music, photos, videos and other digital content – using not only laptops and desktop computers but any compatible device on a home network, including the popular Sony PlayStation 3 and Xbox 360 consoles.

For business users, the StorCenter ix2 offers unique applications to boost office productivity. In addition to speed, centralized storage capacity and the onboard security to protect all the files on a network, the ix2 delivers optional Bluetooth connectivity, which allows users to send pictures, files and address book contacts directly from cell phones to the StorCenter ix2 for network sharing and data protection. The StorCenter ix2 also has a unique digital video surveillance capability using a compatible Axis™ video surveillance camera for inexpensive real-time viewing and recording of activity inside or outside the office.

Fast network performance at the office or in the home is delivered through a Gigabit Ethernet connection, and data is stored on two high-performance SATA-II drives. Up to two USB devices can be connected to the ix2, including USB printers for network print sharing, a USB Bluetooth dongle for direct uploads, or external USB drives to add incremental storage capacity.

The ix2 includes encryption technology from RSA, the security division of EMC that protects digital data at many of the world's largest banks and now shields the StorCenter ix2 from viruses or malware. This is another example of EMC technology integrated into the StorCenter ix2 to help protect users' data.

The StorCenter ix2 provides data backup and protection with integrated EMC Retrospect® Express backup product. During the set-up process, users choose files and folders for scheduled automatic backups from all the PCs and Macs on their network. After that, any changes or additions are updated and saved automatically. The ix2 also includes MozyHome® online backup, which provides 2GB of free online storage for connected PC and Mac computers with the option to upgrade to unlimited online backup storage for $4.95 per month per computer.

EMC® LifeLine™ technology integrated into the StorCenter ix2 manages all of the appliance's potent network-based storage functionality, along with out-of-the-box data protection, file management and media-serving capabilities.

Availability of New Features

The new features are now shipping with new StorCenter ix2 units.

Compatibility

The StorCenter ix2 Network Storage appliance is compatible with Windows®, Mac OS®, and Linux® PCs and supports up to two printers or external hard drives. The interface is localized in 11 languages (English, Spanish, Portuguese, French, Italian, Japanese, Korean, Traditional and Simple Chinese, German, and Russian). Other supported devices include uPnP AV devices, digital media adapters, iTunes™, and PTP (e.g., digital cameras and frames). BlueTooth compatibility requires an optional adapter.

Price and Availability

The 1TB StorCenter ix2 Network Storage appliance is available worldwide for $299.95; the 2TB model is available for $479.95. (All prices are U.S. suggested retail.)