Iomega Home Media Network Hard Drive Review - 500GB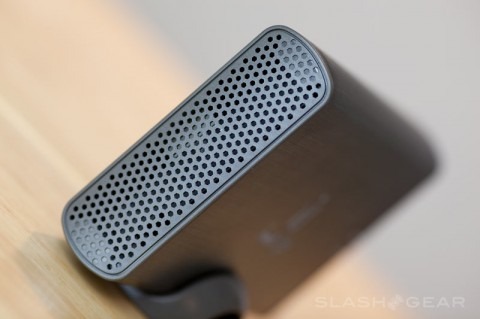 As the name implies, the Iomega Home Media Network Hard Drive is essentially a NAS device with media hub abilities, intended to back up and playback multimedia files across your home network. Where it stands slightly out from the crowd is in its support of UPnP for DLNA-certified devices and iTunes, allowing the NAS to store and stream music, video and pictures to a variety of PC, laptop, home consumer electronics and Apple products.

Physically the device is wider than the Iomega DVR Expander we reviewed not too long ago. The unit is well ventilated with air holes in the plastic front cover, an aluminum case, and a small fan helping to cool the eco-green series Samsung HD502Hi 500GB hard-drive (16MB cache; 5,400RPM). We had no problems with heat at any time, but the drive does have a noticeable whine even when idle. In a busy environment you wouldn't be able to hear it, especially if it's next to the jet-engine PS3, but in a quiet atmosphere it could be distracting for some users, even up to 4-5 feet away.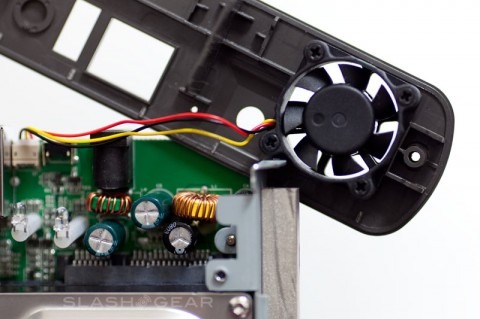 Set-up
 

Getting the Home Media Network drive to work is fairly straightforward: plug the drive into your network hub or router, install the Manager Console from the included CD and it's ready to serve. In a nutshell, the software utility installs shared folders to your systems – mounting essential folders from movies, music, photos to public – making it easy to drag and drop your media files from any workstation to the media drive.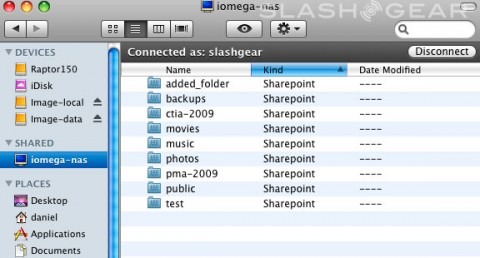 The manager console worked flawlessly on windows XP SP2 Pro and Vista, shared folders were quickly mounted upon installation, but it was slightly challenged by OS X when we first set it up. The app was unable to locate the drive across the network, whether connected to either our Linksys WRT54GX2 or WRT610N test routers. Kudos to Iomega support, they went out and bought their own WRT610N to try to replicate the problems we were having, and the issues were swiftly resolved. If you are experiencing some router issues with the Iomega Media Network drive on your Mac, try the new discovery tool here.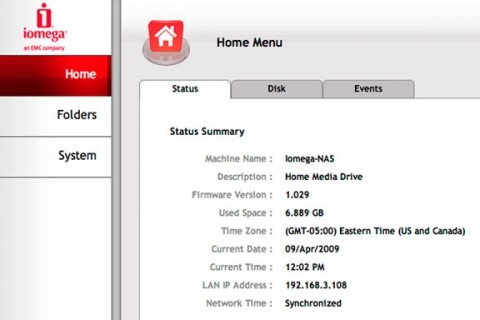 The web interface has a clean and simple layout. In the left panel there are Home, Folders and System tabs, with sub categories listed in right panel. Changes made to the settings are handled in an ajax-like way, and the whole thing is intuitive and very user friendly. 
 

The Home tab shows information about the multimedia NAS drive from capacity, status, and space occupied to its current IP address. It also has disk format and repair functions if needed. After loading around 50GB of data onto the disk, we formatted it; that didn't take more than 15 seconds to complete. 
 

The System tab allows you change the admin login, network settings, drive name, workgroup name for your home network and reset all settings back to factory defaults.  It's also where you can apply firmware updates, and shut-down or restart the drive. Under System is where you'll find the "Reset iTunes and DLNA" button; according to Iomega, after adding new files to your DLNA server, you must reset it to see the changes. Basically, a click of the button disconnects and reconnects the drive from the DLNA server, which took just a few seconds of reconnection; we'd prefer to see this automated or at least have a schedule option, though.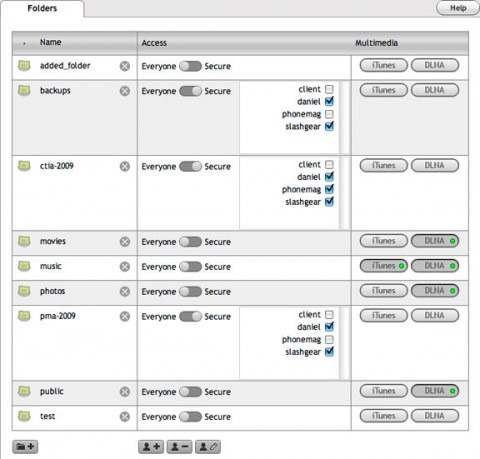 Files and sharing settings are addressed in the Folders tab. Folder access can be switched between "Everyone" – where there are no limitations – or "Secure". For the latter, users can be individually assigned using the checkbox list next to it. Iomega have also added out-of-the-box compatibility with common DLNA clients such as games consoles, TV, multimedia players and digital photo frames. To enable multimedia content streaming to DLNA devices or iTunes, it's a case of simply hitting a button and you're good to go.
 

In our tests, folder security worked just ok. You can assign, delete and edit users, and once created the new user will be added to all folders.  All folders are visible to guests within the network but they only have access to content when they've been assigned it.  We'd prefer a slightly more pleasant and descriptive message when access is denied, though; throwing up an unexpected error code or "Folder cannot be found" is hardly informative.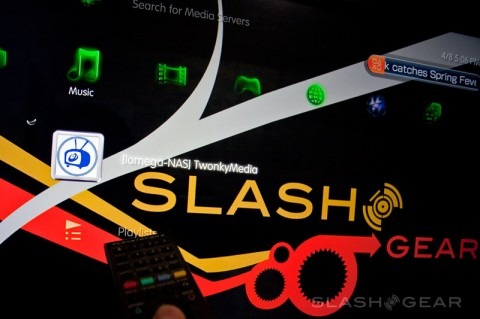 It's also worth noting that turning the DLNA service off doesn't block the access immediately: content previously indexed is still accessible, but new files added to the folders are not visible. We reset the DLNA settings after each change in the System tab, but still had no luck. Deleting content, on the other hand, worked just fine. In summary, accessing the content is not the problem here, it's just that preventing it is somewhat tricky. 
 

Extras 


Iomega bundle the NAS with EMC Retrospect Express, an automated and schedulable backup app for your Pc and Mac, together with 2GB of free Mozy online backup.  There's also a USB port on the back of the unit which can either take an external hard-drive to augment capacity or let the Home Media Drive act as a print server. 
 

Performance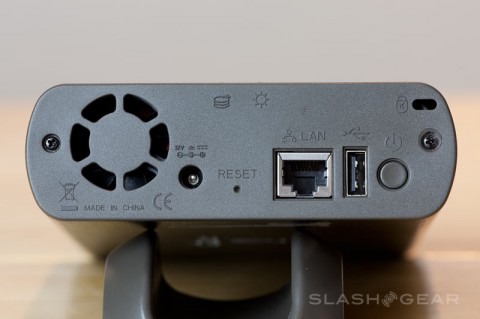 The Iomega doesn't come equipped with WiFi connectivity, just a gigabit Ethernet socket for network connection. We're not too concerned with the lack of wireless, though; in our experience the patchy performance and relatively low throughput of WiFi means you're far better off going for a wired link between router and NAS.   
 

To test the NAS' performance we ran several backups to the drive, first with a large number of small files and then with a single large file, all over the Linksys WRT54GX2 router. The small file package contained digital images range from 15MB to 25MB, for a total of 4.45GB, while the large file was a single 4.36GB DMG image. 
 

Using a wireless connection between our test computer and the router, the smaller files were copied at 1.37MB/s; this improved slightly with a hardwire connection, up to 3.59MB/s, but still pretty disappointing.  The large file transfer managed a far more cheerful 14.53MB/s write and 28.34MB/s read rates respectively.
 

Streaming video over wireless is manageable for compressed files, but you can forget about viewing the 5D Mark II's Full HD capture; with a bit rate of 42.32Mbps (or 5.29MB/s), more than the average 40Mbps Blu-ray video, it's just not happening! Wired connections had no stutter issues, though, and we were able to stream the same HD video to two locations with ease. Note that with a read speed of 28.34 MB/s, I should be able to stream up to five high bit rate 5D Mark II videos simultaneously.
 

Conclusion
 

Anybody particularly serious about either backup or home media servers, especially the Mac users, may find the Iomega Home Media Network Drive underkill; it's a typical NAS device with average transfer speed, and the DLNA server, while functional, lacks finesse and is occasionally buggy.  Also, there's room for improvement in managing the file-sharing. At $160 for the 500GB and $230 for the 1TB versions it's reasonably priced, though, for a single-drive system with no hardware redundancy.  For home users looking to double up on their everyday files, together with serve some content around the house, it's a decent choice.