Iomega external drives add Mozy for free online backup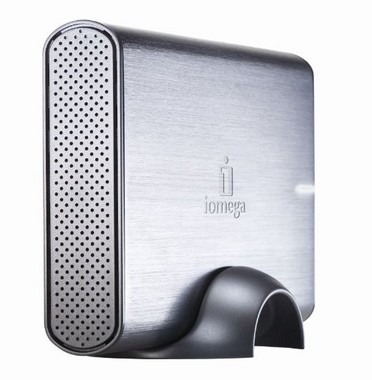 Iomega have announced a new hardware and online services bundle that marks their first collaborative release with EMC stablemates Retrospect and Mozy.  Buyers of Iomega external hard-drives will be offered both copies of Retrospect Express, for managing local backups, and 2GB of online storage courtesy of MozyHome.  In a discussion today, Jonathan Huberman, President of the Consumer and Small Business Products Group at EMC Corporation, described the integration of hardware and software as the first step toward making remote backup and 'cloud' storage more accessible to users without the benefit of dedicated technical support teams. 

The system will offer home and SMB users the same remote access and transparent off-site backup currently available to enterprise clients.  Describing the sort of entry-level user who might ordinarily not consider alternative forms of backup, Huberman told SlashGear about the multiple versions of Retrospect Express on offer: Retrospect Express HD combines control of local and remote storage in the same, straightforward GUI, and is intended for beginners, while EMC will also make Retrospect Express 7.6, which has more complex settings, available for proficient users. 
Thanks to high-speed USB connections, local backups will take place instantly.  When I asked about users with relatively slow internet connections, and how they would be served by the Mozy online storage, Huberman outlined the "trickle" upload that throttles back data transfer according to what bandwidth is available.  Online files can then be accessed from any internet-connected computer.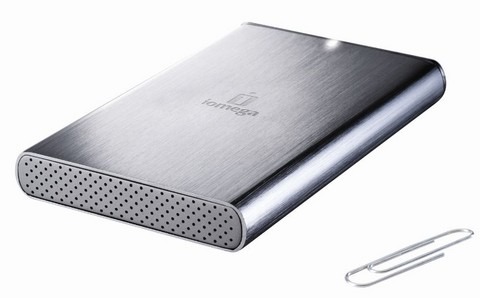 Huberman also revealed that Iomega is working on a new Linux stack that will debut on external storage devices at the end of the Summer.  While the software will include further enterprise-style functionality, including disk distribution and remote access, it will also add multimedia streaming and other consumer features.  While it's too early for pricing details, we do know that the new drives will fall within the range of current consumer and SMB products.  Interestingly, remote access will not solely be aimed at desktop and laptop users, and will instead cater for mobile devices such as smartphones.
Drives that include Retrospect Express and Mozy licences will be available this month in the U.S. while international customers will have to wait until later in the Summer.  While the Mozy subscription is capped at 2GB, users can choose to upgrade to unlimited storage for $4.95 a month, per computer.
Press Release
Iomega Extends Leadership in External Portable Storage with New EMC Backup Bundle Integrating Local and Online Backup

Industry-Leading Iomega Hard Drives Integrate MozyHome Backup Service with EMC Retrospect Backup Software

SAN DIEGO, July 16, 2008 – Iomega Corporation, an EMC company (NYSE: EMC) and a global leader in consumer and small business data protection, today announced an industry first in integrating local and remote backup in a single product offering. Iomega external hard drives are now rolling out with a new downloadable software bundle that integrates EMC® Retrospect® Express software with Mozy™ online backup service, vastly improving the convenience of securely storing, protecting and accessing important files.

Today's announcement marks the first time that EMC-owned brands and market leaders Iomega, Retrospect and Mozy have united to offer consumers a single integrated hardware and software solution for nearline and online backup. EMC acquired Iomega in June, having previously purchased Dantz Development Corporation, makers of Retrospect backup software; and Berkeley Data Systems, the developers of MozyHome™ and MozyPro™ online backup software.

"The combination of Iomega external HDDs with Retrospect backup software integrated with Mozy online backup service means storing, protecting and accessing digital files is now easier than ever before," said Jonathan Huberman, President of the Consumer and Small Business Products Group at EMC Corporation. "Computer users now have a seamless backup system for local backup of every file, as well as backup to the cloud for files that warrant another copy. This bundled solution provides the versatility of any time, anywhere access.

"Industry-leading Iomega storage devices provide tremendous capacity and dependability for storing all of a user's files while Mozy and Retrospect Express work seamlessly with each other so the user has both regular local backups of all files as well as an extra level of security and remote access for files stored online," continued Huberman. "This integrated product combination is the first example of EMC's consumer and small business product division bringing computer users an unparalleled combination of the best hardware, software and services in the market today."

Iomega Hard Drive Owners Get a Total Storage Solution Right Out of the Box

Today, buyers of Iomega external hard drives can now choose the version of Retrospect Express backup software that is right for their needs, as well as the easy-to-use added bonus of 2 GB* of MozyHome online backup for free or unlimited MozyHome online backup storage for $4.95 a month**.

EMC® MozyHome is a consumer service that enables Windows and Mac users to securely back up important files – such as photos, music, videos, financial documents and more – over the Internet to world-class EMC data centers. By automatically sending copies of these files to a safe, remote location, MozyHome provides protection against fire, theft, natural disaster, and all the other unexpected events from which a local backup provides little or no relief. And because MozyHome backs up throughout the day and night, it provides an additional layer of protection from hardware failure and accidental deletion. With 2GB of free storage, MozyHome makes it easy to try online backup.

New buyers of Iomega hard drives will receive in the product box details on how to download the free license of the Retrospect Express software of their choice (for Windows or Macintosh platforms) and the MozyHome Free 2GB, as well as the offer of unlimited MozyHome online storage for $4.95 a month. Owners of Iomega hard drives that have previously downloaded Retrospect can update to these latest versions free of charge either through automatic product updates or by proactively going to the Help Menu within the Retrospect user interface and clicking on "Update". Registered Iomega customers with product still under warranty*** will be sent emails giving them information on how they can participate in this program as well.

There are three free download options of Retrospect software available to new owners of Iomega hard drives:

Retrospect Express HD 2.5 for Windows (includes MozyHome integration)MozyMoasdfFor works seamlessly to enable simple, reliable backups. The two programs can share setup information and send backups to either nearline storage (an external hard drive or network drive) or online storage (the internet), or both. Retrospect Express HD protects the contents of a PC by regularly making a backup copy and storing the backup on a second local hard drive or one on the network. It's easy, fast and reliable, and even backs up open files so that a computer does not have to be shut down to initiate a back up. A setup wizard guides the user through three quick steps: choose what to protect, select a hard drive to hold the backups, and set a schedule.

Retrospect Express 7.6 for Windows (with integrated launch into MozyHome or MozyPro) is more configurable for advanced users, protecting a single Windows desktop or notebook computer by backing up to internal and external hard drives, NAS devices, CD/DVDs and removable drives such as Iomega's award-winning removable HDD technology, the REV Backup Drive. Retrospect Express 7.6 delivers proven data protection capabilities in an easy-to-use software package that includes built-in open-file support. A launch button for MozyHome and MozyPro online backup software is built into Retrospect Express 7.6.

Retrospect Express for Macintosh 6.1 protects a single Macintosh desktop or notebook computer by backing up to internal and external hard drives, NAS devices, CD/DVDs and removable drives such as REV. Retrospect Express delivers proven data protection capabilities in an easy-to-use software package. MozyHome online backup service has not yet been integrated into Retrospect Express for Macintosh 6.1, but the MozyHome software available on the Iomega download site and supports Mac OS X 10.4 and above.

Iomega Portable and Desktop Hard Drives

Iomega has one of the broadest lines of portable and external desktop hard drives in the market today. Iomega 2.5-inch portable hard drives range in capacity from 80GB to 320GB, including the popular eGo™ portable hard drive, available in 160GB, 250GB and 320 GB models. Iomega portable hard drives are available as USB-powered models that require no external power supply, as well as dual interface models that incorporate USB 2.0 and Firewire 400 interfaces. Iomega's line of 3.5-inch desktop hard drives range in capacity from 500GB to 1.5TB, including the recently announced 1TB Iomega eGo Desktop Hard Drive, available in several personalized colors. Iomega desktop hard drives are available as USB 2.0 only, dual interface (USB 2.0 and Firewire 400, or USB 2.0 and eSATA), triple interface (USB 2.0, Firewire 400 and Firewire800), and tetra interface models (USB 2.0, Firewire 400, Firewire 800 and eSATA).

Availability

Iomega external hard drives with the new downloadable software bundle that integrates EMC® Retrospect® Express software with Mozy online backup service will be available this month in the U.S. at retail, online, catalogue and other channels; the integrated product offering will be available in international markets later this summer.

Users of EMC Retrospect Express can upgrade for a fee to EMC Retrospect Professional for Windows or Desktop for Macintosh to add increased functionality with computing environments that have more then one computer and/or mixed operating systems (Windows, Macintosh and Linux). Retrospect Professional and Windows or Desktop for Macintosh each comes with two additional heterogeneous clients so that users can backup three computers on a network. Users can also purchase more clients as needed. These Retrospect upgrades can be purchased through a channel partner such as a reseller for a significant cost savings.

About EMC

EMC Corporation (NYSE: EMC) is the world's leading developer and provider of information infrastructure technology and solutions that enable organizations of all sizes to transform the way they compete and create value from their information. Information about EMC's products and services can be found at www.EMC.com.

About Mozy

Mozy is the leader in online data backup for consumers and businesses. With more than 750,000 users and 20,000 business customers, Mozy offers a simple, automatic and secure service for backing up data over the Internet. Mozy was acquired by EMC Corporation in 2007 and operates as part of the EMC Cloud Infrastructure and Services Division. Information can be found at www.mozy.com.

About Iomega

Iomega Corporation, a wholly owned subsidiary of EMC Corporation headquartered in San Diego, is a worldwide leader in innovative storage and network security solutions for small and mid-sized businesses, consumers and others. The Company has sold more than 400 million digital storage drives and disks since its inception in 1980. Today, Iomega's product portfolio includes industry leading network attached storage products, external hard drives, and our award-winning removable storage technology, the REV® Backup Drive. OfficeScreen®, Iomega's managed security services, available in the U.S. and select markets in Europe, provides enterprise quality perimeter security and secure remote network access for SMBs, which help protect small enterprises from data theft and liability. To learn about all of Iomega's digital storage products and managed services solutions, please go to the Web at www.iomega.com. Resellers can visit Iomega at www.iomega.com/ipartner.

* 1 GB = 1,000,000,000 bytes.

** $4.95 per month for unlimited MozyHome online storage is limited to one desktop computer and may not be combined for use with more than one computer per Mozy Home account.

*** Iomega external hard drives have a one-year warranty in the U.S. and a two-year warranty in Europe and Asia.

Copyright© 2008 Iomega Corporation. All rights reserved. Iomega, REV, eGo, and OfficeScreen are registered trademarks of the Iomega Corporation in the United States and/or other countries. EMC, Mozy and Retrospect are registered trademarks of EMC Corporation or its subsidiaries. All other trademarks are the property of their respective holder