Invasion of the Tablets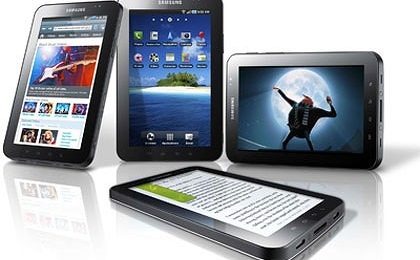 The day started with the Wall Street Journal reporting that the CEO of Best Buy Brian Dun shared that the iPad was cannibalizing Best Buy's laptop sales by a shocking 50%. They day ended with Samsung announcing that their Galaxy Tab 7 inch slate will be available on all four major wireless carriers here in the US in the coming month's.
Samsung is the first of what I expect to be many major consumer brands launching tablets with carrier support over the next 6 month's. Smart phones and soon to be Super Phones may be the fastest growing category in the industry but tablets are certainly the hottest trend I am seeing right now. With the latest comments by Best Buy's CEO you can see why so many in the industry have their eyes fixed on this space.
What I am interested to watch as it relates to these tablets and others is how the carriers position these devices at retail. As consumers begin to look and consider alternatives to the iPad it is point of sale positioning that may make or break these products. What is unfortunate is that these devices coming out are running Android 2.2 (AKA Froyo) which is not the best version of Android to be running on tablets. My fear is that because Froyo is not the optimized version of Android for these devices that the overall device experience suffers and then does more damage than good for the non-Apple side of the market.
Samsung went through a lot of work to optimize Android 2.2 for the tab and developers will now have to go through the work to make sure their Android applications scale well to larger screens. It will be interesting to see how the consumer and developer market responds to Android tablets.
Android tablets I do believe will present a viable solution in the market place however we will need to wait for Android 3.0 or even 3.5 before we really see what Android tablets bring to the market in this category.
Things to Watch
- Carrier Pricing for the Tab
- Retail and point of sale positioning
- Will the carriers sell tablets as a part of a package along with other mobile devices
- How will the market respond to Android 2.2 running on tablets that come to market this calendar year