INU's painfully expensive folding electric scooter hits preorder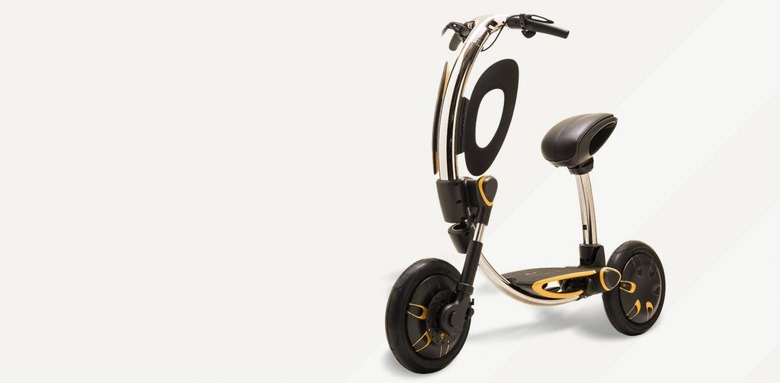 Green Ride's INU folding electric scooter has finally hit preorder, though would-be riders of the expensive two-wheeler will have to wait before they hit the streets. Shown off first in late 2015, the INU – which offers up to 24 miles of all-electric range and a top speed of 15.5 mph – was initially expected to ship in September this year. Now, though, as preorders open, Green Ride says it'll be September 2017 before customers actually get their scooters.
Will it be worth the wait? Green Ride is hoping that a certain deep-pocketed, eco-minded audience will think so. Unlike the cheap electric scooters that have proliferated over the past couple of years, INU takes a far more high-end approach to the platform, with an emphasis on design and connectivity.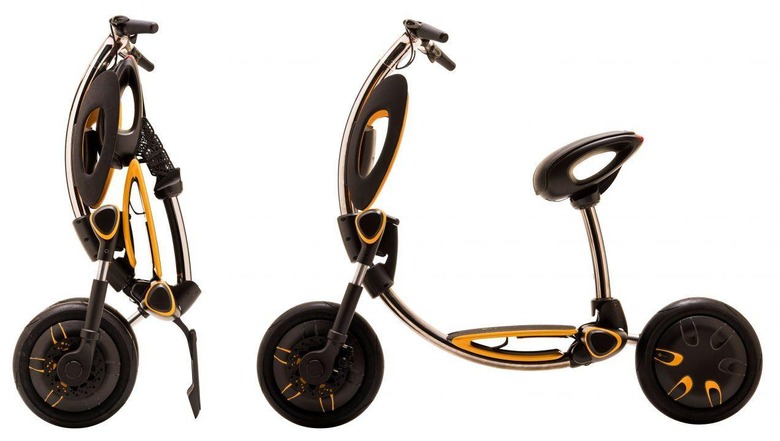 So, the aluminum alloy frame curves sinuously rather than looking like leftover scaffolding poles, the seat is covered in leather, and the whole thing is a riot of merging arcs. The folding mechanism is controlled remotely – either by the app, or a voice or hand gesture – while the electronics are integrated into the frame rather than wires sprouting all over. It's the handiwork of Ori Yemini, a former Pininfarina designer.
It's certainly enough to distinguish the INU even among other high-design electric scooters, like Gogoro's. Unlike that rival, though, INU doesn't have a network of battery-swapping stations to count on; instead, it offers a more traditional power pack. A full charge takes around three hours, Green Ride says, or an hour from 50-percent.
Three different battery capacities – each with a different range – are being offered. The smallest, and cheapest, promises 12 miles of riding; the second is 18 miles; and finally, the biggest should manage 24 miles. Also differentiating between the three is onboard connectivity: the most affordable INU has WiFi onboard, but the other two models have WiFi and a cellular connection.

Hooked up to an iOS or Android device – there's a phone dock integrated – and using its onboard GPS, INU promises to be one of the more technologically-savvy scooters out there. Its 500W or 750W electric motors are integrated into the rear wheels, and there are disc brakes on the front; regenerative braking tops up the battery as you slow. As for the 15.5 mph top speed, that's been selected so that riders won't need a separate scooter license, Green Ride says.
Unfortunately, what they will need is a fairly fat wallet. Pricing kicks off at $2,999, with the 18 mile model $3,999, and the top-spec version with 24 mile range at $4,999. A refundable deposit is being taken for each version, respectively, and at time of publication Green Ride has a handful of orders. That might increase as foot traffic to its new Palo Alto, CA pop-up showroom gives would-be riders a chance to see the scooter.
MORE INU