International iPad preorders now shipping June 7th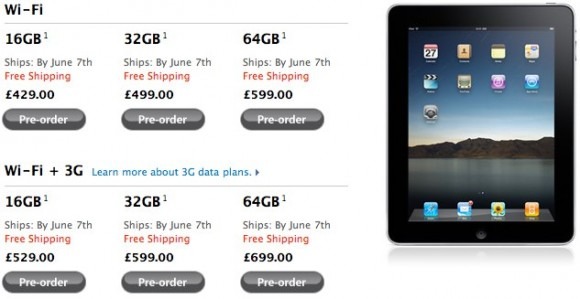 Apple's international launch of the iPad earlier this week looks to have been a surprising success, with the expected shipping date for new WiFi and WiFi + 3G models pushed back into June.  The first batch of preorders are expected to ship for May 28th, when the iPad will also arrive in stores; however, Apple's online stores are now listing preorders as shipping by June 7th, a little over a week later.
The delay has impacted UK and Canadian preorders of all six iPad variants, together with mainland Europe, Australia and Japan.  It's unclear whether the apparent stock shortage will affect availability in Austria, Belgium, Hong Kong, Ireland, Luxembourg, Mexico, Netherlands, New Zealand and Singapore, where the iPad is expected to launch in July 2010.
Meanwhile, at Apple's US store, the iPad is listed as shipping in 7-10 days.  The company have previously expressed surprise as the amount of interest in the tablet, causing them to delay their international roll-out as US stocks grew limited.
[via GadgetVenue]