Intel Xeon Hexacore Chips: $999 And In Short Supply?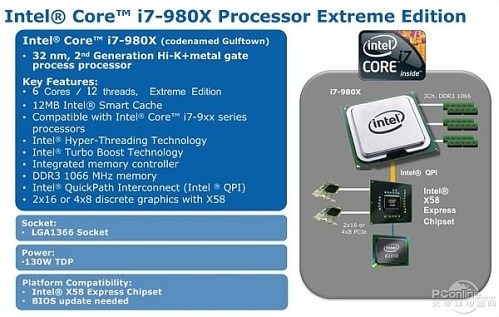 Further details on Intel's upcoming hexacore Xeon processors have emerged, suggesting that the chips will form their own flagship line rather than replacing the existing quadcore processors.  Hardmac has heard that the hexacore chips will initially be in short supply – kicking off with the 3.33GHz Core i7-980X in March 2010 – and will be expensive, too; $999 for the i7-980X.
Meanwhile as well as the second hexacore, the 3.2GHz Core i7-970, which is expected to arrive in Q3 2010, there's a little news on the third model in the series.  That won't arrive until 2011, when it replaces the Core i7-980X with the same clock speed but a lower price, and with a new "flagship" CPU above it.  Apple are expected to launch a new Mac Pro desktop with the i7-980X on March 16th.