Intel tipped to work on WiGig wireless docking stations for Ultrabooks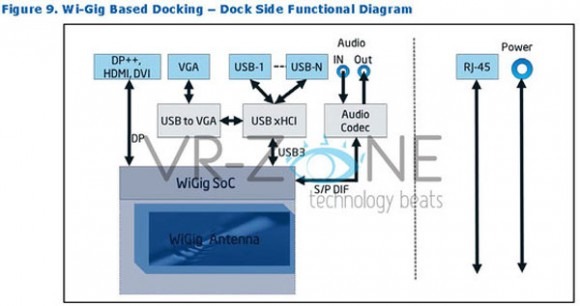 I mentioned last week that Intel was said to be working on a new wired docking device for the Ultrabook lien that is tipped to be using Thunderbolt. This week we have another new rumor that points to Intel working on a second docking system for Ultraboosk, and this one is wireless. The new docking station uses WiGig tech that offers more bandwidth than 802.11n.
The Wireless Gigabit Alliance has some of the largest firms in the tech industry as members including Intel, Broadcom, Marvell, Dell, Microsoft, and lots more. WiGig uses 60GHz Ultra Wide Band tech inside with very high speeds with the trade off being a very short range. There are some caveats to the dock proposal reports VR-Zone.
One is that you would need to plug the Ultrabook in to keep it powered. The other catch is that if vPro Intel tech is important to you, you would have to connect the Ethernet cable directly to your Ultrabook. The cool part is all you would need to do for the WiGig docking station to connect to your machine is sit your Ultrabook near it. There is no indication of when this might come to market, the WiGig standard hasn't launched yet.
[via VR-Zone]