Intel tipped to be working on AR headset prototype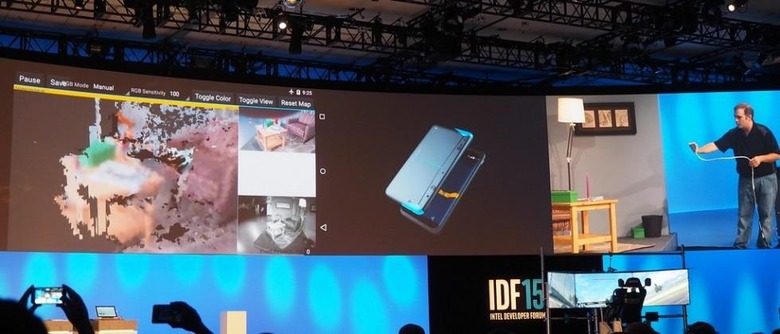 The Unreal Reality week continues. On the heels of Microsoft's start of pre-orders for the HoloLens development kit and Meta's second AR dev headset, Intel is now claimed to be working on an augmented reality headpiece of its own, according to people familiar with the matter. The difference, however, is that Intel isn't exactly making one for end user consumption. Instead, it is more interested in selling companies that do make these devices the components inside, a business that is more relevant to Intel than selling ready to use products.
While it may seem that Intel is just playing catch up with the likes of Microsoft and Google, in truth it isn't a stranger to augmented reality, or at least the technologies that together make up the devices used for AR. As early as January 2015, Intel has already flaunting its RealSense camera that gives devices, particularly tablets and smartphones, a sense of depth. This technology would eventually find its way into at least one variant of Google's Project Tango device. Intel would later on acquire Recon Instruments, a company that specializes in sports goggles that can display information in a corner of the wearer's field of view.
But a Tango-like sensor with Google Glass like display does not an AR headset make, so Intel still has a lot of work ahead of it. Good thing it's not really in a race to get a product out the market ASAP. At its core, Intel is a chip maker so its business is more concerned that it gets its chips inside the devices that will be sold to consumers. That is the strategy it has been employing with the likes of the MICA luxury smart bracelet and, in the near future, a drone as well.
Intel has been struggling to reclaim its prominence in the computing industry in the face of the smartphone onslaught. Dipping its fingers into the cookie jar of new markets like wearables, IoT, and, now, AR could be its solution. Naturally, Intel isn't confirming or denying the speculation, but VP and GM for the perceptual computing group Achin Bhowmik has confirmed as much, pointing to Intel's practice of selling prototypes to actual sell the components inside them.
SOURCE: Wall Street Journal