Intel Tango Phone Hands-On: Android RealSense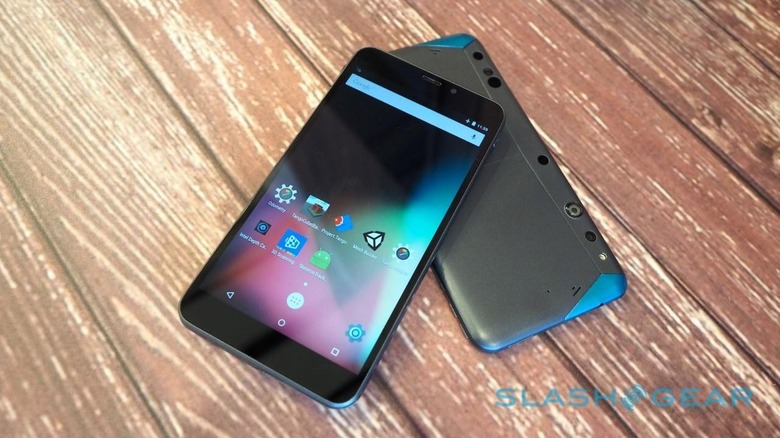 Intel's RealSense 3D camera technology always seemed like a natural bedfellow with Google's Project Tango, and sure enough they've met up at IDF 2015. The Android phablet isn't expected to ship for developers until the end of the year, but Intel brought along a handful of prototypes – along with some apps to make use of them – to its annual event, which is where I caught up with the smartphones to see what's new.
The Tango magic, of course, happens on the back. Intel's own fish-eye camera is present, just as it is on the Tango tablet, but rather than NVIDIA's choice of depth sensor, you get a RealSense camera array instead.
As for the other hardware, it's much as you'd expect from a recent Android device. Up front is a 6-inch touchscreen, while inside there's Intel's X5 Cherry Trail processor.
In fact, beyond the camera array itself, the only unusual thing is the port. High up on the side is a long, narrow slot, almost like a 30-pin dock connector from an old Apple device.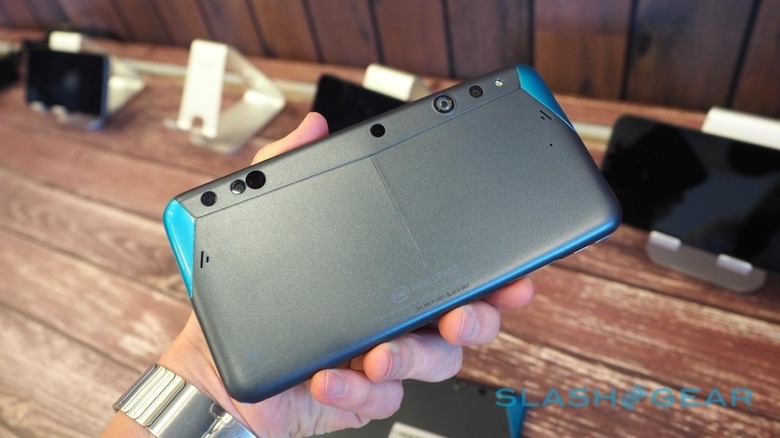 Actually, though, it's Intel's own combo-USB/HDMI port. That won't be present on the eventual developer kit device; Intel's first intention, Perceptual Computing Group project manager Michael Liu told me, was to use USB-C, and indeed that will be on the final device, but the hardware wasn't available in time.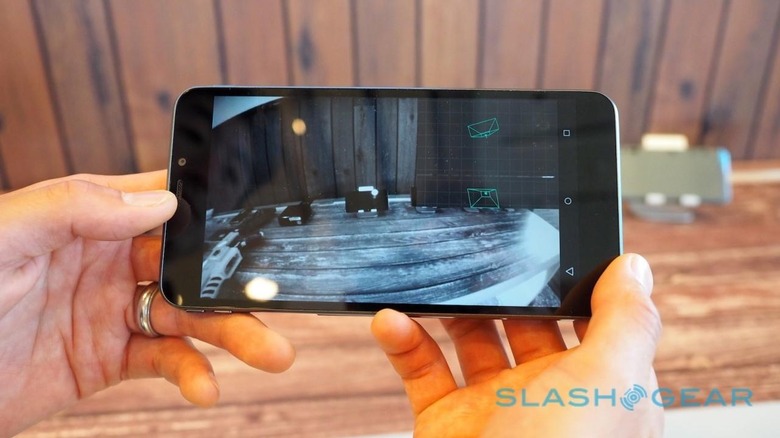 As for why you might want 3D mapping in the first place, Intel was running through a couple of demos. At its core, the phone is about generating 3D models of environments in real-time: you simply point it around the space you're in, and it builds up a web of feature pinpoints as well as leaving a breadcrumb trail behind you.
Where that comes into its own is when you integrate that 3D model with a game. In one, Intel shows how you can build Minecraft-style blocks into virtual objects, only visible on the smartphone's display, but locked to a physical position in the room.
Moving around your construction allows you to see it from all angles, zoom into it, and – as with another demo, which mapped tables, ledges, and baskets and then let you shoot balls onto and into them – interact.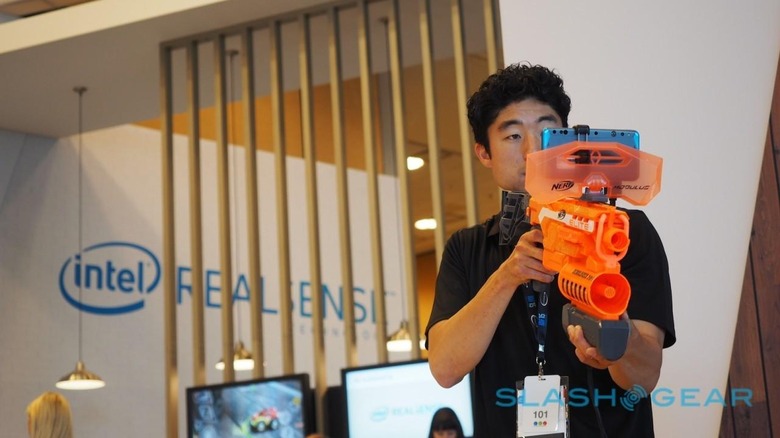 The most fun, however, was when Intel pulled out a modified NERF gun, which was fitted with a holder on the top for a Tango phone. That shows the gameplay, while the gun's own trigger is hooked up via Bluetooth.
What differentiates it from other such gun peripherals, however, is that the game map relates to the real-world. You can duck down behind virtual walls, for instance, to avoid snipers, as you hunt down robots to shoot.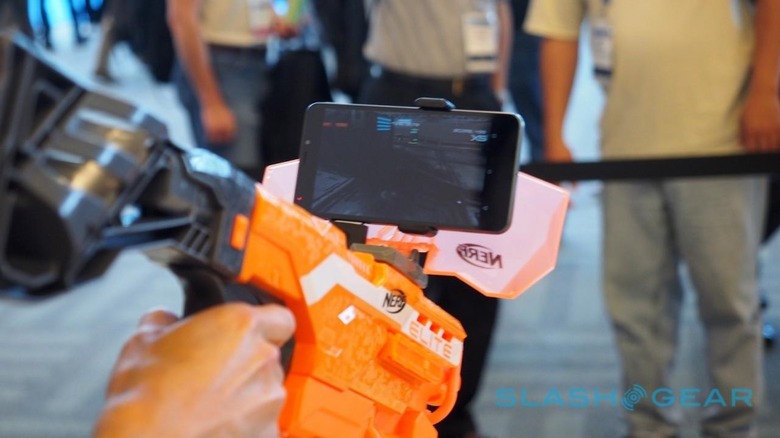 Intel tells me the Project Tango phone developer kit is expected to go on sale by the end of the year. Pricing is yet to be decided, but the goal is to have it in the ballpark of the currently availably NVIDIA-powered Tango tablet, which is priced at $512.