Intel SSDs confirmed: 80GB & 160GB consumer, plus 32GB enterprise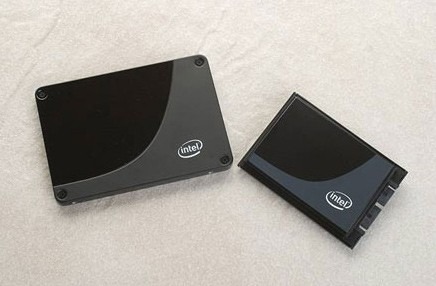 As expected, Intel has announced its new solid-state drives at the IDF today.  Of the three new drives, two will be aimed at the consumer market and the third at enterprise and server markets; each boast read rates of up to 250MB/s, SATA 3Gb/s interfaces and between 40 and 140-percent increases in battery life and real-world performance compared to a traditional 5,400rpm HDD. 
The two consumer models, the the X18-M and X25-M, will come in 1.8-inch and 2.5-inch sizes and be available in 80GB and 160GB capacities.  Using MLC flash memory chips, write speeds will apparently reach up to 70MB/s.  Active power use is rated at 150mW, while idle power use is down to just 0.06W.
Meanwhile the enterprise version, the X25-E Extreme, uses more expensive but better performing SLC flash memory chips.  That boosts write speeds up to 170MB/s and reduces read latency from 85ms in the consumer models to 75ms.  Power use is apparently 2.4W active and 0.06W at idle.
The 80GB consumer drives will go into production next month, while the 160GB versions will land early next year.  The X25-E Extreme will go into production in 90 days, with a 32GB capacity, and a 64GB version tipped for Q4 2009.  Still no word on pricing.
[via The Tech Report]