Intel shows concept Nikiski Ultrabook with transparent trackpad [UPDATE]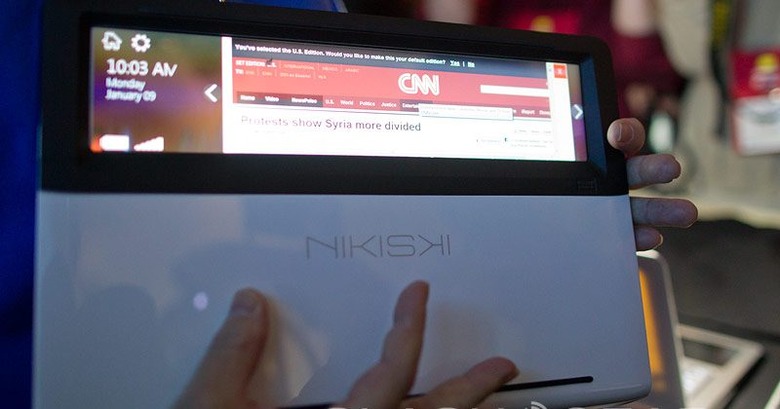 Intel's going fast and hard with its pointed design ques for its partner manufacturers, and in at least one model, showing them up entirely. During their Ultrabook CES press conference, they showed off a working model of a former prototype with a transparent trackpad, nicknames the Nikiski. Why a transparent trackpad? Because it allows you to see relevant information in a quasi-mobile interface when the laptop is closed.
The Windows 7-based (not Windows 8) hardware uses an almost entirely trasparent trackpad, running all along the bottom half of the ultrabook beneath the keyboard. When closed, you can see the window you were just using shrink to fit the now cropped area of the LCD. You can also activate a new touch-based interface that looks almost identical tro Windows 8 (but again, it isn't.) The trackpad itself is touch-senitive, making the entire unit transform into essentially a tablet with a huge bezel when closed. The top lid is also semi-transparent, but a representative told us that it was a manufacturing defect.
The aplication for this design is limited, though I could see some utility if you managed to somehow integrate keyboard into the trasparency. Asus tried something similar a few years ago with small LCD screens integrated into the top of the screen lid. The idea is novel, and I'd love to see what some enterprising OEMs can do with the technology on display.
The Nikiski just an Intel concept, so you won't be seeing it (or even a laptop based on its design) any time soon. We'll have a video hands-on later in the day.
UPDATE: check out our hands-on video below!