Intel set May release date for next-gen Centrino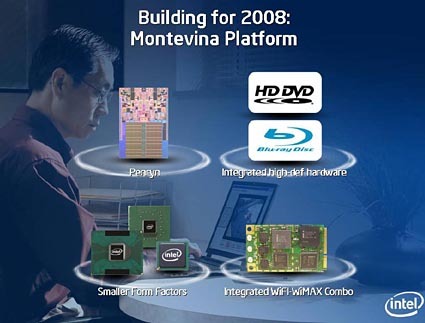 It's a sad fact of life that if you were to wait for the "next big thing" in tech you'd never get around to buying anything (though you could save two-hundred bucks on an iPhone...); that sprang to mind when I saw Intel's announcement that their next-gen Centrino processors – seemingly sweeping the board when it comes to laptops – will hit shelves in May 2008. 
CEO Paul Otellini broke the news at the Intel Developers Forum today, finally setting a date for the launch of the CPU range that will include onboard wireless (802.11n as well as, in some cases, WiMAX) and direct support for HDMI and HDCP.  Chip speeds of 2.13GHz, 2.40GHz and 2.53GHz (all with 3MB of L2 cache) are expected, as is a low-voltage version for applications particularly energy conscious.
Of course, if you decided to hold off buying a new laptop until next May, you'd end up with a lot of unread email to wade through by then.  So I wouldn't let it dissuade you too much; just bear it in mind if you're planning an upgrade early 2008.
Intel [via Reg Hardware]