Intel Ruler SSD squeezes 300,000 movies into a single rack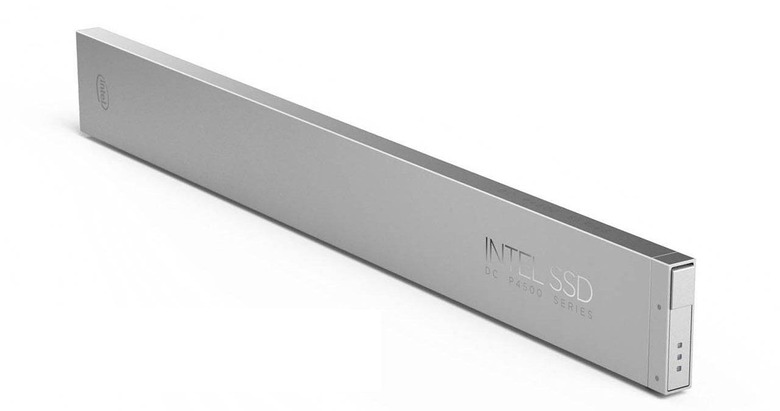 Intel has revealed its latest SSDs, and while there have been advances internally, it's the design of its new "Ruler" SSD form-factor that's probably most striking. Named, unsurprisingly, after its long and skinny shape, the new drive may look unwieldy but it has been designed with a very specific purpose in mind. Namely, maximizing how much storage you can fit into a single rack.
As a result, it's exactly 1U high – the same height as a standard server rack. It means that those looking to pack as much storage as physically possible into a single rack will be able to squeeze multiple Ruler SSDs in. Indeed, Intel says that it envisages a single 1U server as being able to hold 1PB (1 petabyte, or 1,000,000 GB).
That works out to 300,000 movies in HD resolution, which is likely to come as music to the ears of businesses like Netflix which rely on digital storage for their ever-increasing catalogs. Of course, Intel had to do some fancy engineering to fit all that storage in. Maximum storage comes with the latest Intel 3D NAND technology, though the company says it'll also offer Optane SSDs in the same form-factor too.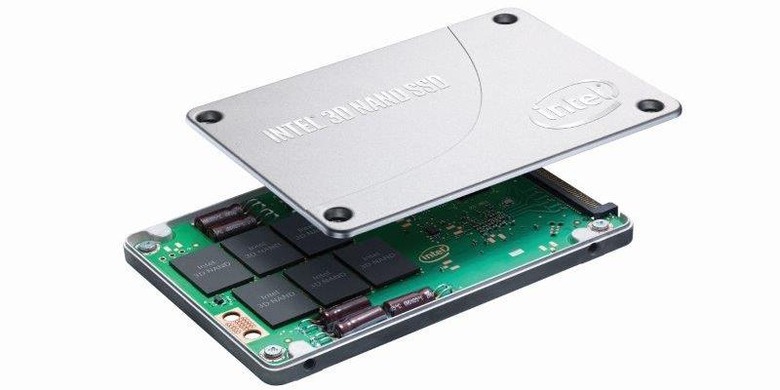 According to Intel, the Ruler SSDs will reach the market "in the near future"; sooner, though, will come Dual Port SSDs and SATA SSDs for Data Centers. The former – again, in Optane and 3D NAND form – promise more IOPS, more bandwidth, and lower latency than SAS SSDs. The Dual port Intel SSD DC D4500, D4502 and D4600 Series should hit shelves in Q3 of this year.
Finally, the SATA SSDs for data centers will comprise the DC S4500 and S4600 Series line-ups. They have an Intel-developed SATA controller and what the chip-maker is saying is the industry's highest density 32-layer 3D NAND. Unlike the unusual Ruler SSD form-factor, they're designed to slot into the place of an existing, traditionally-shaped hard-drive, minimizing the time it takes to upgrade to speedier storage.
While none of these are going to end up in consumer hardware any time soon – though the Intel 3D NAND technology will, in other forms – you'll probably see the benefit anyway. Given the cloud-centric world we currently live in, any improvement on the server-side should pan out to an improvement locally, too, limited primarily by the speed of your connection.
Meanwhile, Intel detailed its full Core X Series processors earlier this week, including the hotly-anticipated Core i9 Extreme. Promised as "the most powerful, scalable and accessible high-end desktop platform offered by Intel," the chips – and the flagship Extreme Edition Intel Core i9-7980XE specifically – will take on AMD's Threadripper rivals later this year.