Intel's New RealSense Camera Gives 3D Localization For AR Headsets And Drones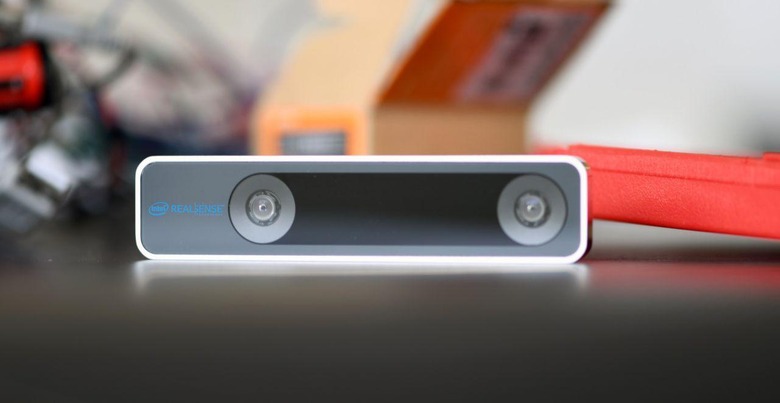 Intel has revealed its latest smart mapping camera, the Intel RealSense Tracking Camera T265, targeting smartphones and AR headsets along with autonomous drones and robots. Equipped with twin fish-eye cameras, the T265 can precisely locate itself in 3D space without resorting to GPS or other external data, making it particularly useful indoors.
At the heart of the standalone camera is Intel's Movidius Myriad 2 vision processing unit, or VPU. That's what allows the T265 to use data from the twin cameras for simultaneous localization and mapping (V-SLAM), without requiring cloud connectivity.
It's called inside-out tracking, effectively using onboard sensors for pinpointing location rather than external sensors. Each fo the fish-eye cameras has an approximately 170-degree field of view. Together with the VPU, they can deliver 6-degree-of-freedom (6DoF) tracking, building and continuously updating a map of the surrounding area.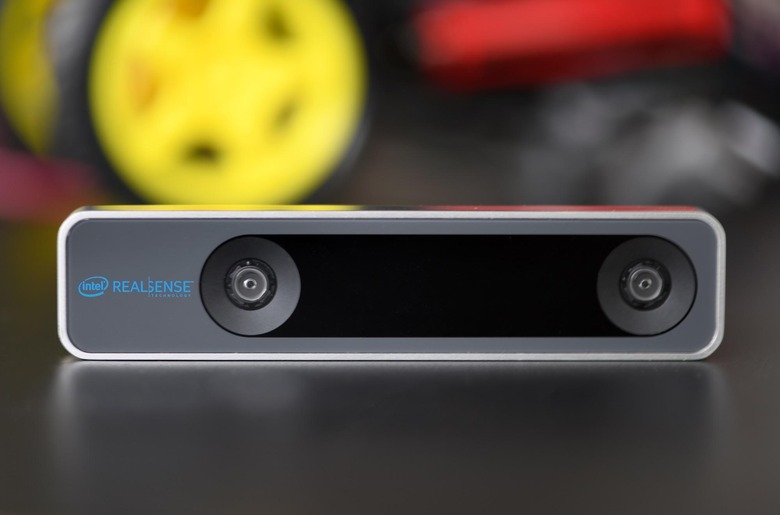 There are plenty of applications for that sort of ability, Intel suggests. A robot equipped with a RealSense Tracking Camera T265 array could autonomously navigate its way around rooms, across lawns or fields, or through warehouses, avoiding obstacles, people, or other potential hazards along the way. Similarly, a hospital robot could bring supplies or test samples to different labs in a facility, working its way around human staff along the way.
While robots can already be programmed with maps of such facilities, their ability to navigate intelligently around them depends on the freshness of that mapping data. With the T265, in contrast, the maps are updated in real-time, and all of the positioning calculations – and the avoidance algorithms – are performed on the device itself.
It needn't be a robot or drone, mind. Intel says the T265 could be just as much at home in a portable device like a smartphone or an augmented reality headset: the original Myriad 1 VPU, for instance, was found inside Google's Project Tango 3D-mapping smartphone and tablet platform. There, particularly with AR apps where precise localization is needed to accurately position digital overlays atop real-world features, the new RealSense array could adapt to whichever space the headset-wearer moved into.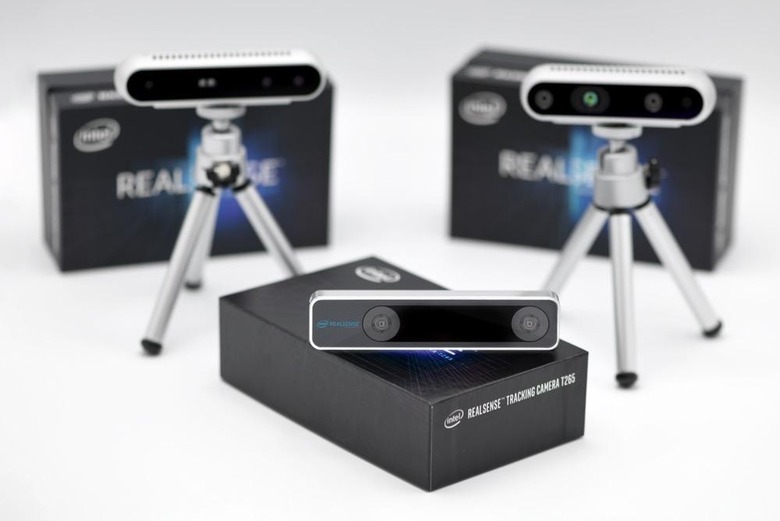 Intel says the T265 is designed to work with, rather than replace, its existing RealSense D400 series off cameras. The RealSense Depth Camera D435i announced last November, for instance, brings motion and gesture detection, rotational tracking, stabilization, and orientation tracking. Combined with the T265, they could achieve occupancy mapping, improved 3D scanning, and advanced navigation and collision avoidance.
The RealSense Tracking Camera T265 requires a USB 2.0 or USB 3.0 connection (with at least 1.5W of power) and hardware with enough non-volatile memory to boot the camera. It's available for preorder, priced at $199, and Intel says it expects to begin shipping from February 28.