Intel Next Unit of Computing packs palm-sized power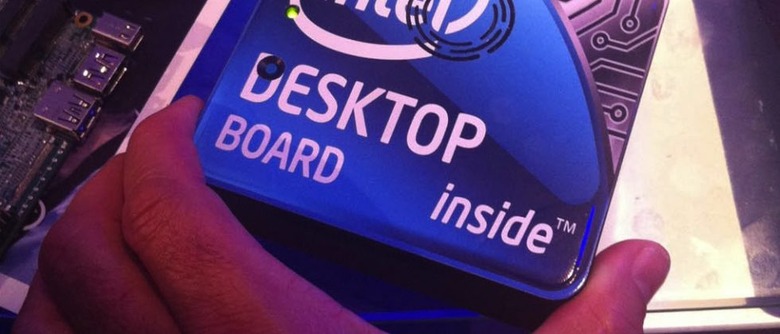 Intel could take on Raspberry Pi and compact set-top boxes with a new, budget PC, the NUC or "Next Unit of Computing," set to launch in the second half of 2012. Dressed in a 10 x 10 cm demo box, the NUC is a full Core i3/i5 Sandy Bridge computer complete with Thunderbolt, HDMI and USB connectivity, Sweclockers reports, while inside there's a pair of laptop memory slots and a pair of mini PCIe headers.
Thanks to a standard CPU slot and regular heatsink and fan, any Core i3 or Core i5 chip can be dropped in, meaning that as well as outclassing the Raspberry Pi in terms of raw speed – the "$25 computer" runs at 700MHz – it can run any regular x86 software. Intel is apparently positioning it as a digital signage device or the basis of a standalone kiosk, but even with HD 3000 graphics it could still be enough to do HTPC duty.
Pricing hasn't been confirmed, at least not publicly. Intel told Just Press Start that the NUC will "not be in the hundreds and thousands range" and is considering "different kinds of SKUs"; whether any of those will be targeted at the home market remains to be seen.
Similarly unclear is whether Intel is expecting to slot an Ivy Bridge upgrade into the NUC, though with low-power versions not expected for a little while yet, it'll probably be at least a few months before that happens. One thing's for sure, there's a whole lot of flexibility in this palm-sized box.
[via Extreme Tech]