Intel MediaPhone By Inventec Spotted [Video]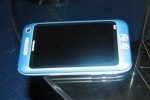 Intel have been talking about their upcoming Moorestown platform, and demonstrating it with this Inventec MediaPhone.  The device – a voice-enabled MID with touchscreen interface – runs a customized version of Moblin v.2; the bad news is this won't be appearing on shelves any time soon.
Video overview after the cut (Updated with new video)
Full specifications of the device are unclear, but according to Intel's launch (which you can see in the video below) there'll be pinch-zoom functionality, which suggests a capacitive rather than resistive touchscreen.  There's also a camera on the back, which looks to have a flash.
Much of Moorestown's hardware will be the same as is used in netbooks; what will differentiate the two will be the UI, and Intel are working on a "ground up" new design.  Moorestown is expected in 2010, so don't expect to see a MID-phone like this until well into next year.