Intel Haswell "Shark Bay" detailed ahead of 2013 debut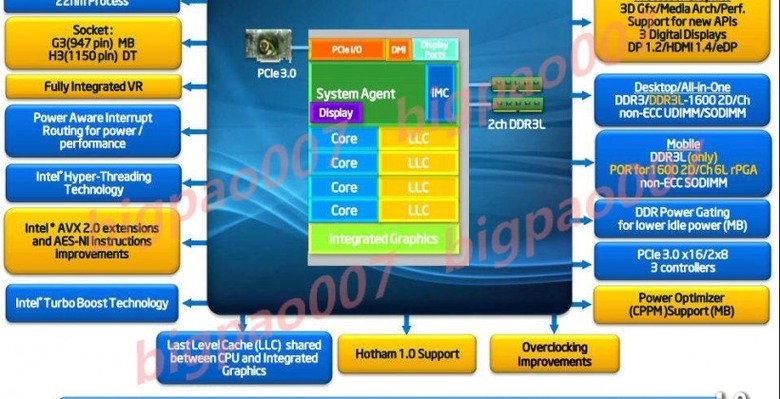 New details on Intel's Haswell, the "Shark Bay" platform set to replace Ivy Bridge in 2013, have been revealed, suggesting up to four 22nm trigate cores will be on offer, along with NFC support for mobile devices and significantly reduced boot times. The specs, detailed on a set of internal slides discovered by Chiphell, outline a single "Shark Bay" platform that will cover both desktop and mobile processors, with three levels of Intel integrated graphics – GT1, GT2 and GT3 – with the possibility of HD-to-HD video transcoding in realtime.
There's also a change in strategy around Intel's ultra-low voltage versions of the Haswell chips, which will apparently be harmonized into a single line. They will be paired with more power-efficient idle states and configurable TDPs. A minimum of three mobile SKUs are indicated, ranging from the ULT low-voltage version (with a 15W TDP), a mid-tier dual/quad version with up to GT2 graphics support, and a high-end version with four cores and GT3 graphics.
For the desktop, either two or four cores, TDPs spanning 35W, 45W, 65W and 95W, and DDR3/DDR3L memory will all be on the cards. A new chipset, codenamed Lynx Point, is also on the cards, though less is known about that at present. However, it's believed that it could include native Thunderbolt support among other things.
[via VR-Zone - thanks Paul!]