Intel expecting 35 Atom tablets in 2011; Dell's Intel Android plans quietly deleted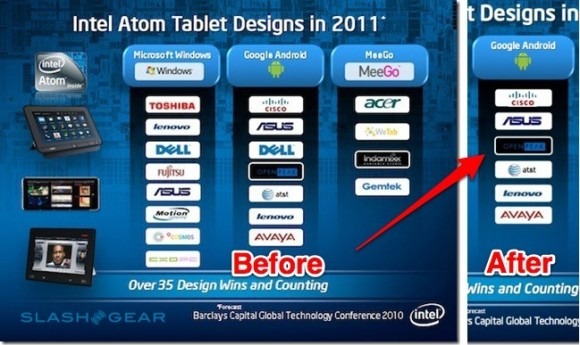 Intel has announced manufacturer partners intending to produce 35 Atom-based tablets in 2011, with systems running Windows, Android and MeeGo all on the cards. CEO Paul Otellini confirmed the news at a tech conference this week, describing the two versions of Atom – Oak Trail and Moorestown – as targeted at Windows and Android/MeeGo tablets respectively. However, Intel has also been modifying its slide-deck since the presentation, removing mention of Dell from the Android-on-Atom column.
Dell is still name-checked as planning a Windows-based Atom tablet, along with Toshiba, Lenovo, Fujitsu, ASUS, Motion and others, but the Android partners are down to Cisco, ASUS, OpenPeak, AT&T, Lenovo and Avaya. Meanwhile MeeGo partners include Acer, WeTab and others.
Meanwhile Medfield – Intel's second-gen Atom smartphone chip – has seemingly been pushed a little further back again. According to Otellini, the chip is "in customer sampling...for shipment [in phones] in 2011 and 2012. You will see smartphones from premier-branded vendors in the marketplace in [the second quarter of] 2011 with Intel silicon inside them."