Intel Developer Forum: Day 1 Highlights on 'Sandy Bridge'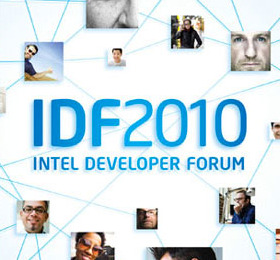 After the first day of IDF 2010 keynotes the big discussion of the day is around Intel's latest microprocessor architecture code named 'Sandy Bridge.'  Intel revealed more details about this new architecture today and highlighted the increased emphasis on performance in both primary CPU as well as performance around integrated graphics.
The primary performance boost of Sandy Bridge is due to its 4 cores which will be able to process 8 threads simultaneously as well as a new feature named Turbo 2.0.   In essence Turbo 2.0 is an intelligent automatic over-clocking feature which can automatically boost the core CPU performance for a short amount of time in order handle complex tasks.   This feature manages the time the boost is applied to the CPU in order to make sure it does not overheat.
Another bit of the details of Sandy Bridge discussed today is around the performance in the graphics capabilities of this new architecture.   This in essence may be one of the more debated topics by us in the industry for the near future.   Integrated graphics as a term in the industry has been tainted for some time.   Integrated graphics have never been able to compare with a discreet graphics solution which market providers like NVIDIA and ATI offer.   Intel is desperately trying to change this with the emphasis of integrated graphics capabilities found in 'Sandy Bridge.'
Intel is boasting a 25x improvement in graphics capabilities with this latest architecture.   25x is a significant improvement however the bar for integrated graphics has been abysmally low.   From the demonstrations I saw the graphics were much better then past integrated graphics solutions I have used in the past.   HD video played well and encode / decode times were decreased.    I will however remain skeptical of the graphics solution, at least until I get to handle the new silicon and put it through my own paces.
I look forward to tomorrow's keynotes which will include more discussion around Smart TV's, Tablets and other mobile devices.