Intel Convertible Classmate PC to get official unveil at CES 2009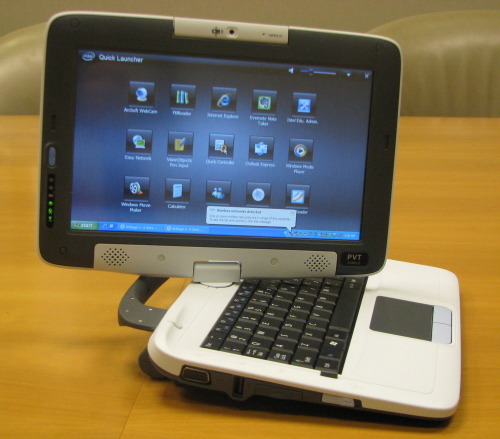 Intel's Convertible Classmate PC, aka the CTL 2go PC, has made another public appearance before its official CES 2009 unveiling, and both the hardware and software have been tweaked since last time we saw it.  Gone is the bile-green lid, replaced with a blue-white pattern, and build-quality is much improved; more impressive is the ways that Intel have made Windows XP pen-friendly, with their new Vision Objects Pen Input app.
That software offers handwriting recognition and an on-screen keyboard, and coupled with the Classmate's Quick Launcher interface it looks like one of the more successful ways the OS has been fettled for fingers and styli.  Palm-rejection (always tricky for a resistive touchscreen) is good and the display is reportedly responsive.  Intel are currently working with educational software providers to make touch-friendly versions of their apps, which is something Microsoft should have been doing with "grown up" software developers for years.
Other improvements include an accelerometer that no longer lags, which should be straightforward but somehow often proves otherwise; hardware specs are still Intel's 1.6GHz Atom N270 processor with a 60GB hard-drive and an 8.9-inch display.  The Intel Convertible Classmate PC will apparently start shipping in January.