Intel Classmate PC orders cancelled as recession bites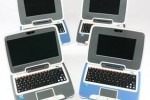 Intel's Classmate PC was heralded as the way that children in emerging markets would avoid getting left behind in the silicon revolution; now it seems that lifeline may have been cut.  DigiTimes is claiming that various governments and OEM partners have cancelled their orders for the low-powered netbook, having been forced to reprioritize their budgets in the wake of the ongoing economic downturn.
Patchy and delayed networking infrastructure has also been blamed for the cancellations, which have not been made publically but leaked out via Taiwanese component manufacturers.
Intel themselves have declined to comment, only reiterating that they are working with various manufacturers around the world to develop products suited to local needs.  As for Quanta Computer and ECS, Intel's OEM partners in Taiwan, they're not believed to have been unduly effected because the Classmate PCs have such small profit margins – and have been ordered in relatively small numbers – compared to other devices.