Intel Classmate Netvertible aka CTL 2go tablet tested: sturdy & slick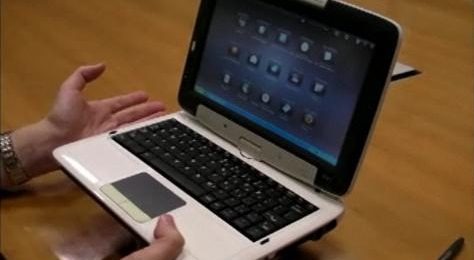 The last we saw of Intel's Classmate Netvertible – aka the CTL 2go tablet – it was a surprise guest at the Intel Developer Forum in August.  Several months have passed, and CTL entrusted the guys at Laptop Mag with their only demo unit.  It's still pre-production hardware, particularly when it comes to the physical design, but we can apparently expect to see it on sale in the US come December, priced at $499.
Numbers will be severely limited, however, and so it won't reach normal retail channels until January 2009 at the earliest.  Your money gets you a pretty standard netbook in most areas – 1.6GHz N270 Intel Atom processor, 1GB of RAM, 60GB hard-drive and WiFi b/g – but of course the main difference is the 8.9-inch convertible touchscreen.  This runs at 1024 x 600 resolution and can be used with any stylus or finger (only the former will be supplied); Intel have developed a Quick Launcher app to trigger shortcuts to commonly used apps.
There's also an accelerometer to flip the screen orientation depending on how you're holding the 2go tablet, and the handle – though still an unpleasant color – looks to be particularly useful when you've twisted it around to slate mode.  Laptop Mag are impressed, with the CTL's durability, accelerometer and responsive touchscreen all earning it bonus points, but we'll have to wait until the end of the year to find out if production versions are as good.