Intel cable and web TV system tipped for CES reveal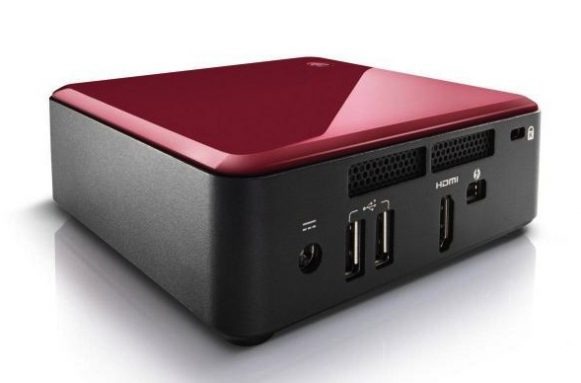 Intel is readying a set-top box mixing on-demand streaming media, free cable content, and a virtual DVR, sources in the video industry claim, with the first-gen hardware tipped for preview as soon as CES 2013 next week. The new push for a slice of the living room follows Intel's apparent frustration with the failure of first-gen Google TV boxes powered by its chips; according to TechCrunch's tipster, the company has grown tired of "everyone doing a half-assed Google TV so it's going to do it themselves and do it right."
According to another source inside of Intel itself, an early version of the STB will be brought to CES next week, with a preview of the system tipped for its January 7 press event. However, it may be some time before the hardware actually arrives under your TV, with Intel supposedly eyeing a progressive roll-out rather than attempting to sweep across the US in a simultaneous launch.
That's an apparent workaround to traditional content owner reluctance to "unbundle" the packages of cable channels usually offered, something which has scuppered Apple plans, among others, to help cord cutters get solely the channels they're most interested in. Packaging channels together is a good way for content owners to keep licensing fees buoyant, especially given many of those tempted to abandon paid cable service are reluctant to miss out on certain sports, media, or other shows.
Intel's approach will supposedly be on a city-by-city basis, initially focusing on areas where content providers have less lucrative deals with cable companies, and hoping to demonstrate that a more flexible licensing approach might also make sense financially. Such a rollout will begin "soon" according to the tipster, though there's nothing more specific.
As for functionality, in addition to free cable content and select pay-TV content depending on what Intel can pry out of licensees, there'll be internet-streamed shows such as from Redbox and other services. Intel also aims to offer a DVR system which would allow recall of any show aired within the past month, across any channel the individual user has subscribed to: rather than having to pre-emptively record a show, it would simply be served up on-demand.
Chatter of an Intel set-top box and accompanying service began back in March, with reports that the chip company aimed to have the system up and running before 2012 was through. Subsequent leaks tipped a complex viewer-monitoring cable box that could give more precise demographic data as to who was watching which services, to show more accurate and relevant adverts, and generally make up for any losses incurred through channel unbundling by increasing overall advertising revenue. "They've told us the technology is going to be so much more interactive with ads that you can make more money" one anonymous TV industry executive said at the time.
Google TV had promised to do something along those lines, but Intel's partnership with Google faltered after early hardware from Logitech and Sony met with mediocre response in the market. Earlier this year, Google announced it would support low-cost, low-power ARM processors with Google TV, though despite more affordable hardware as a result, the platform is yet to take significant market share from more traditional TV entertainment sources.