Intel Bay Trail will be available in 10 devices by November's end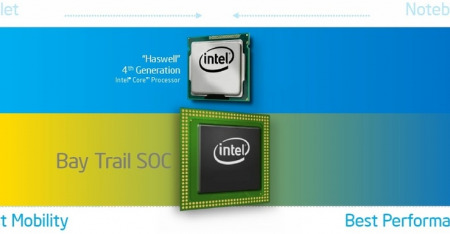 Earlier today, Intel's CEO Brian Krzanich made the company's third-quarter earnings call, revealing additional information during the time including word that the Broadwell chip has been delayed a quarter. In addition to that, the executive also talked about the Bay Trail chips, detailing their sizable arrival in the next handful of weeks.
The devices are of the tablet and hybrid variety, and will be available over the next handful of weeks by the end of November, bringing them around in time for the holiday shopping season. Though it isn't as high as Intel was aiming for, it still represents a rapid adoption of the latest technology, which is anticipated to bring about several perks.
Said Krzanich: "We've seen 50 design wins with half of them being 2-in-1 devices [hybrids]. We see it continuing to grow as we enter next year." Of the devices that are coming, the first round of Bay Trail-harboring tablets will be running the 32-bit version of Windows 8.1, with 64-bit tablets coming in Q1 of 2014.
We've talked about the Bay Trail Atom processors a fair bit. Back in mid-September, Intel revealed its plans for the processors, showing that the company is aiming for small, powerful devices running Android and Windows 8. With the hardware comes Burst Technology 2.0, moderate change in battery life, resolutions up to 2560 x 1600, and more.
SOURCE: PC World