Intel Bay Trail Aims For Android And Windows 8 Hybrids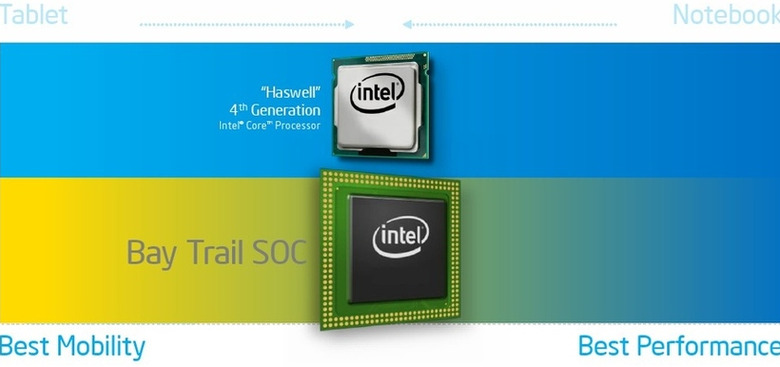 Today Intel has revealed their plans for the Bay Trail collection of Atom Z3000 Series Processors, making clear that they're aiming for devices that are small but powerful. This line of SoC is headed for tablets, phones, and everything in-between packing Intel's newest Silvermont architecture for next-generation processing finesse. This is not Intel's first move into the mobile smart device universe, but it's certainly its most serious.
This line of SoC (system-on-chip) is smaller than any offered by the company before in this segment. With a 22nm size, Intel will be able to fit into tiny devices, making using this architecture enticing to those manufacturers of next-generation tablets, smartphones (massive ones, that is), and hybrid devices (tablet/notebooks). If you want to make a device thin, you need to work with thin components!

Z3000-class processors will be appearing in dual-core or quad-core iterations with up to twice the CPU performance of comparable ARM mobile processors at the same time as they out-perform the competition in graphics performance by x3. That's Intel's suggestion, mind you – we'll have to test it all out on our own to confirm, as always. The most powerful SoC to come out of this generation of builds will be the Z3770 – this system-on-chip will bring on resolutions up to a cool 2560 x 1600 pixels with clock speeds at up to 2.4GHz a core.
A little like the next generation of NVIDIA processors, these bits of Intel architecture are inheriting the technology of desktop and laptop processors. You'll find the same 3D Tri-Gate transistors in Bay Trail that exists in Intel's Ivy bridge – originally introduced as a concept all the way back in 2002 – aiming to do what was demonstrated by Intel in a very basic showing in May of 2011:
Though this 3D Tri-Gate transistor technology does speak a little to battery life in the short run, Intel has made clear that these next-generation SoCs will not be offering the same major change-over in juice-sucking offered in the company's 4th Generation Core technology in laptops. You will, on the other hand, be working with Burst Technology 2.0.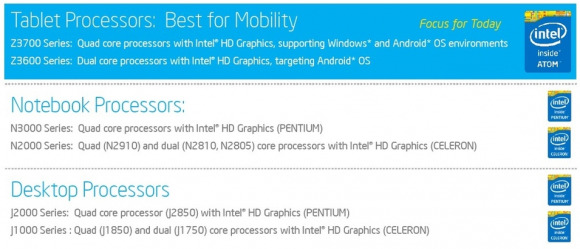 What Burst Technology 2.0 offers is a much more effective handling of power – in short, similar to what many mobile SoCs have been doing recently with low-power processing, Intel does here with dynamic scaling of processor use. This seems to us to be good news for future Android and Windows devices, and the manufacturers already announced to be using the architecture in the near future seem to think so too.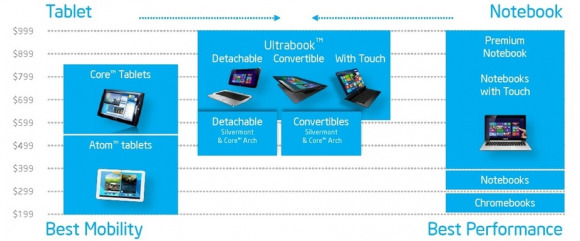 Toshiba will be on-board as well as ASUS, Lenovo, Dell, and Acer, and many, if not all of them will be bringing devices by the end of the year. Intel has suggested some rather exciting pricing possibilities with this technology too – watch out for the $200 fanless tablet by the end of the year, with even the highest-power transforming tablet/notebook not reaching above $350 at its base – is that a range you can handle?