Intel axe Larrabee GPU over developmental delays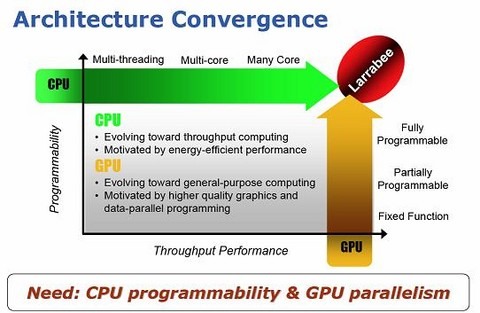 Intel's Larrabee based graphics chip plans have been axed, after the company decided development delays had left the project uncompetitive.  Announced back in August 2008, the GPU was to be based on multiple Pentium CPUs with 64-bit instructions and multi-threading, and offer "the full programmability of the CPU with the kinds of parallelism and other special capabilities of graphics processors".
However, according to Intel spokesperson Nick Knupffer, silicon and software development for the GPU has fallen behind the company's expectations for the project, and as such they don't believe it would be suitably competitive with NVIDIA and ATI.  Originally a 2009-2010 launch timescale had been intended.
Still, it's not the end for Larrabee or Intel's broader graphics intentions.  According to Knupffer, the company's first Larrabee product will now be a software development platform for both graphic and high performance computing, while they'll be revealing new graphics plans in 2010.
[via Barrons]