Intel Atom Z550 2.0GHz tipped as imminent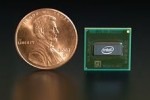 Intel is reportedly planning on launching a new model in its range of Intel Atom Z5xx-series processors.  The Intel Atom Z550 runs at 2.0GHz, making it the fastest clock-speed Atom, while offering the same 2.4W TDP power, 512KB L2 cache and 533MHz FSB.
The new Z550 will slot in above the current highest-speed Atom chip, the Z540, which clocks in at 1.86Ghz.  It's unclear whether the Atom Z550 will be targeted at netbooks or MIDs, or potentially both.  Hopefully Sony will catch sight of the new chip and upgrade their VAIO P, the US version of which could certainly do with a speed boost.
Yesterday news leaked about Intel's upcoming mainstream processor plans for the next few months.  They're expected to announce two new Core i7 CPUs, taking high-end clock speed for the range to 3.33GHz.
[via Pocketables]