Intel Atom Processor Z2760 Clover Trail Detailed For Windows 8 Tablet Glory

The processor formally known as Clover Trail has been re-introduced this week at an event showing off its greatness in a collection of Windows 8 hero machines. This is the Intel Atom Processor Z2760, made to run Windows 8 tablets and tablet convertables. Here you've got optimization for both the new Windows 8 touch-friendly interface and the classic Windows desktop mode along with "fast and responsive performance" in a variety of machines that are, in this showing, lightweight, sleek, and overall rather tiny.
With the Intel Atom Processor Z2760 you'll see machines as thin as 8.5mm and as light as 1.5 pounds, with battery life that's bumping up to over 10 hours of local HD video playback (according to Intel, of course), and over 3 weeks of standby time (once again, according to Intel.) This processor allows for NFC integration, high definition cameras, and wi-fi, 3G WWAN, and 4G LTE.
The architecture formerly known as Clover Trail is coming on strong this week from Intel with a dual-core, four-thread, up to 1.8 GHz processor with both Intel Burst Technology and Intel Hyper-Threading Technology. Burst allows you to dynamically ramp up your performance for instant gratification in great need while Hyper-Threading brings on support for multi-threaded applications. Two instruction threads in parallel will be helpful in Windows 8 on the tablet, without a doubt.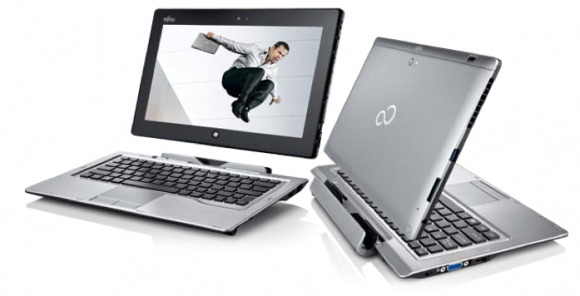 The Z2760 uses 32nm process technology and integrated graphics at up to 533 MHz as well as hardware acceleration support for up to 1080p video encode and decode. This SoC allows for one internal MIPI-DSI or LVDS display in additional to one external HDMI 1.3 display – with a cord, of course. You've got an integrated memory controller as well as support for LPDDR2 800 MT/s data rates at up to 2 GB. This processor has an embedded multimedia card 4.41 and support for Microsoft Connected Standby.
The Intel Atom Processor Z2760 supports GPIOs, USB 2.0, I2C, UART, SPI, SDIO 2.0, MIPI DSI and MIPI CSI. This architecture also works with Secure Boot and firmware-based Intel Platform Trust Technology. You've got support for GPS, accelerometer / compass combination, hardware sensor hub, ALS, SARS, and proximity and thermal sensors, and integrated ISP support for both a primary camera up to 8 megapixels and a secondary camera up to 2.1 megapixels.
Manufacturers joining in on the fun at the initial reveal event on September 27th, 2012 with Windows 8 and the Intel Atom Processor Z2760 both onboard included ASUS, Acer, Dell, Fujitsu, HP, Lenovo, Samsung, and ZTE. Windows 8 and the power under its hood are upon us!